New year brings wild currency swings
After the worst annual performance since 2011 for currency managers last year, exaggerated price swings during the first two trading days of this year have traders on alert.
Investors returning to their desks saw foreign-exchange volatility jump to the most in a month as Chinese stock markets plunged and tensions escalated in the Middle East.
Morgan Stanley said swings would persist.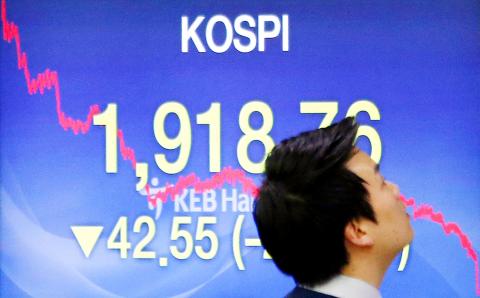 A currency trader walks by a screen showing the KOSPI Index in a foreign-exchange dealing room in Seoul on Monday.
Photo: AP
While Deutsche Bank AG sees a "minor retreat" in volatility, it said more turmoil might come from China and rising US interest rates.
Foreign-exchange funds are looking to better capitalize on volatility after bets on monetary-policy divergence disappointed last year.
Some of the price swings came from unscheduled events last year, such as China's August devaluation of the yuan, Switzerland's decision to scrap its currency cap and plummeting commodity prices, which all prompted traders to react rather than anticipate.
"With volatility comes opportunity, because it's easier to make money when the market's moving," JPMorgan Asset Management London-based chief investment officer Roger Hallam said.
"A disciplined investment process facilitates being able to identify profitable trends or lean into erratic price action," said Hallam, who expects the US dollar to broadly strengthen during the first quarter.
A JPMorgan gauge of currency volatility rose to 10.03 percent on Monday, close to the index's annual average of 10.08 percent last year, the most since 2011. It fell to a record-low 7.32 percent average in 2014.
Currency markets were buffeted last year by speculation the US Federal Reserve would raise rates in contrast with global peers, including the European Central Bank and the Bank of Japan. A Parker Global Strategies LLC index that tracks top funds in the industry lost 2.3 percent last year — the worst since 2011 — after the Fed failed to raise rates as soon as some traders expected.
The euro slumped to a one-month low of US$1.0711 on Tuesday after an inflation report highlighted the under-performance of economic growth in the single currency bloc versus the US. Policy divergence is poised to continue, with the US central bank signaling it might raise rates four times this year. The euro was little changed at US$1.0747 as of 6:01am in London yesterday.
This year "is likely to see high asset volatility with central bank-policy divergence, an expensive US dollar becoming even more expensive and political uncertainties acting as the catalyst," Morgan Stanley London-based head of global foreign-exchange strategy Hans Redeker said. "Volatility will be the name of the game, and the very first trading day of this year provides us with a taste of what to expect."
The yen should also benefit in this environment, while currencies of commodity producers and emerging nations would weaken, said Redeker, whose bank was the eighth most-accurate forecaster of major foreign-exchange rates last quarter.
The turmoil is reflected in "group-of-10 currencies," where the average difference between one-month implied and historic volatility for options reached the most in one month on Monday.
"An active 2015 has primed the markets for wide ranges in 2016, but 2015 has also likely preempted and dissipated some key macro sources of future volatility," Deutsche Bank New York-based global foreign-exchange research co-head Alan Ruskin said.
While the bank, which is the second-biggest foreign exchange trader according to Euromoney, sees a slight pullback in volatility this year, it expects markets to stay attuned to US economic performance, Chinese currency depreciation pressures and declining commodity prices.
The latest turbulence was sparked by China, where a worse-than-forecast manufacturing report spurred an equity selloff that snowballed from Shanghai to New York.
Comments will be moderated. Keep comments relevant to the article. Remarks containing abusive and obscene language, personal attacks of any kind or promotion will be removed and the user banned. Final decision will be at the discretion of the Taipei Times.