Dow and S&P 500 in red in worst year since 2008
TECH BRIGHT SPOT: The S&P 500, Dow and NASDAQ all saw selloffs on the final day of trading, but the NASDAQ gained 5.7% for the year, led by Netflix and Amazon.com
The Dow Jones Industrial Average and the S&P 500 racked up their worst annual performance in seven years on Thursday after a sell-off in the final Wall Street session of the year.
The S&P 500 fell 0.9 percent to 2,043.94, leaving the broad-based gauge of US stocks down 0.7 percent for the year, its first loss since 2011. The blue-chip Dow dropped 1 percent in the session to 17,425.03, taking its annual loss to 2.2 percent.
However, the tech-rich NASDAQ Composite Index proved a bright spot, ending the year with a gain of 5.7 percent, despite dropping 1.2 percent to 5,007.41 on the last day of trade.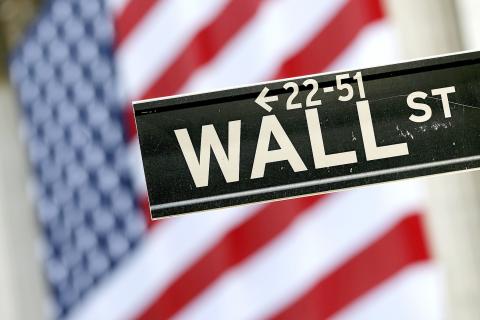 A Wall Street street sign is framed by a giant US flag hanging on the facade of the New York Stock Exchange on Sept. 8 last year.
Photo: AP
Analysts said the declines in Thursday's session should be taken with a grain of salt due to light trading volume ahead of the market's closure on Friday for the New Year holiday and the incentive to sell stocks at the end of the year to book losses for tax purposes.
However, the closing of the books on the worst year for the Dow and S&P 500 since 2008, after both repeatedly had punched through record highs during the year, left a sense of an end to the seven-year bull run since the financial crisis.
BMO Global Asset Management chief investment officer Jack Ablin said he was "hopeful" about the new year, but listed a litany of possible problems, ranging from low commodity prices to still-high equity valuations and the US Federal Reserve's move to lift interest rates.
"There are risks out there and the problem is the market isn't cheap, so it's going to take bad news hard if we get it," he said.
Wall Street appeared heading for another year of gains through August when a stretch of turbulence in Chinese equity markets ignited a global sell-off, pushing the S&P 500 below 1,900.
Stocks subsequently steadied, but trade was choppy last month, with weakness in oil prices often spurring equity selling.
Energy stocks were by far the laggard among industrial sectors, falling nearly 24 percent for the year, according to preliminary figures from S&P Capital IQ. Sectors with gains included consumer discretionary, up 8.4 percent, and health care, up 5.2 percent after a wave of merger announcements, it said.
The flashiest gains came from technology companies like Netflix Inc and Amazon.com Inc, with respective jumps of 134 percent and 118 percent respectively as they posted strong growth.
That contrasted sharply with older companies like Procter & Gamble Co, Caterpillar Inc and Macy's Inc, which saw revenues drop.
"2015 was a year where revenues were evasive and investors were attracted to companies that were able to grow their top line," Ablin said. "That's the problem: For every Amazon, there's probably a half dozen Macy's that are down dramatically."
Comments will be moderated. Keep comments relevant to the article. Remarks containing abusive and obscene language, personal attacks of any kind or promotion will be removed and the user banned. Final decision will be at the discretion of the Taipei Times.