Climate change pushing Chile's vineyards south
Well into their drive to make Chile's wines less about bang-for-your-buck and more about premium vino, vintners in the world's fourth-largest wine exporter are watching some of their most promising vines wither with climate change.
Nestled between the Pacific Ocean to the west and the Andes mountain range on the east, Chile's vineyards have thrived in a Mediterranean-type climate, where hot days meet cool nights and soothing breezes.
However, with average temperatures rising and rains becoming more scarce, producers are being forced to employ new techniques, or even uproot their vineyards and move to cooler, wetter climes further south before grape quality suffers.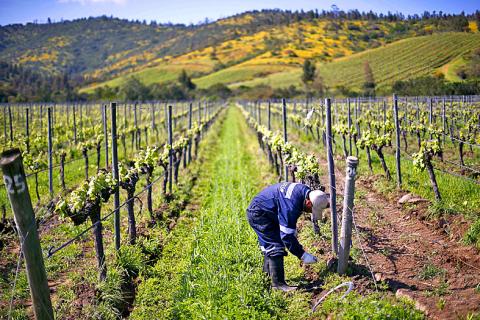 A man works at the Matetic vineyard in Casablanca valley, west of Santiago, Chile, on Oct. 30.
Photo: Reuters
While the shift threatens Chile's step-up in the competitive wine world, it is also opening up large swathes of land to viticulture, in places that were once too cold and rainy to grow decent grapes.
Winemaking in the long, skinny spine of a country dates back to the arrival of the first conquistadores about four-and-a-half centuries ago.
However, it was not until the early 1980s that producers like Spanish winemaker Miguel Torres introduced methods that have made Chile a respectable New World wine producer, its bottles a staple of supermarket shelves from the US to Europe and China.
However, if temperatures keep rising, maintaining current grape varieties and improving quality in Chile is going to become increasingly difficult, said Miguel Torres, president of the namesake company, which has about 400 hectares of vineyards in the country.
"You can continue to plant tomatoes, beans, etc, if temperatures rise, but not the grape varieties we have today," Torres said. "We must find other varieties that are more resistant to high temperatures and drought."
This predicament for one of Chile's most prized industries is emblematic of how a hotter world is forcing a deep rethinking of economics and livelihoods as nearly 200 nations meet in Paris this month to try to work out a global accord to slow climate change.
Chile made its mark as a reliable producer of cabernet sauvignon, although it might be most proud of its signature carmenere grape, an old French variety rediscovered 20 years ago after being thought extinct. It also produces large amounts of sauvignon blanc, chardonnay, merlot and syrah.
So far, it has been a success story as more people around the world drink wine, thanks in part to budding wine aficionados in China and among millennials. Chile's production has doubled in the past 15 years and exports are forecast to reach US$3 billion by 2020, up from US$1.8 billion currently.
Chile's cluster of northernmost wine valleys — such as the verdant Elqui, about 500km north of the capital Santiago — face the biggest risk. Together, they represent about 12 percent of the country's total plantings.
Areas near Santiago are also likely to see big changes in coming years, said Julio Bastias, chief enologist at the vineyard Matetic in the Casablanca Valley, where they are banking on novel techniques, as well as the Humboldt ocean current, to provide cool sea breezes.
"The merlot won't be able to withstand the heat and it will have to be harvested earlier," Bastias said. "Clearly, there is a desertification process that is pushing agriculture south."
A 1oC temperature increase moves harvesting forward on average by 10 days, growers say. That means "you may have high sugar content in the grapes, but the maturity of tannin may be incomplete," enologist Cristian Aliaga said.
Winemakers in the northernmost valleys, reeling from an eight-year drought, sometimes forego watering chunks of their vineyards, leaving grapes to wither under the pounding sun, and what little water is available at times has quality issues.
"We have more saline waters in some basins and that also creates problems because there is greater accumulation of salts in the soil ... resulting in salty wines," said Alvaro Gonzalez, of winemaker Concha y Toro's recently opened research and development center.
Chilean President Michelle Bachelet has put forward a multimillion dollar plan to build dozens of river dams up and down the nation to shore up water reserves for use in agriculture, industry and homes. Meanwhile, winemakers are implementing more advanced irrigation techniques.
However, all of this complicates life for winemakers just as they were focusing more energy on developing premium wines. It takes years for new vines to grow and to adequately train field workers, especially if they have had scant experience in viticulture.
Cash-flush producers, like Torres, are taking the initiative of buying land in southern Chile, where high rainfall and cold temperatures have traditionally made winemaking nearly impossible.
However, meteorologists say rainfall has already dropped by between 20 and 30 percent in the southern regions in the past 50 years, while temperatures have become milder.
Unlike in France or Spain, where there is little room to expand into cooler areas, Chile's producers can plumb the southern depths.
Chilean Minister of Agriculture Carlos Furche sees a new wine frontier opening up down south.
"There have been two or three relatively successful attempts at producing white wines," he said.
Comments will be moderated. Keep comments relevant to the article. Remarks containing abusive and obscene language, personal attacks of any kind or promotion will be removed and the user banned. Final decision will be at the discretion of the Taipei Times.