Chinese seek dollar assets as yuan's promises wither
NOT SO SAFE: Beijing's surprise move to loosen its reins on the yuan raised fears of volatility in the currency, with analysts expecting further weakness through next year
Chinese investors, jolted out of complacency by the yuan's Aug. 11 devaluation, are chasing dollar-denominated assets to guard against currency volatility, according to Western Asset Management Co.
"People are showing more interest in owning US or Hong Kong dollar-denominated assets," said Desmond Soon, the Singapore-based head of investment management in Asia outside of Japan at Western Asset, which manages about US$450 billion.
"Investors are concerned about two-way volatility," he said, referring to the yuan.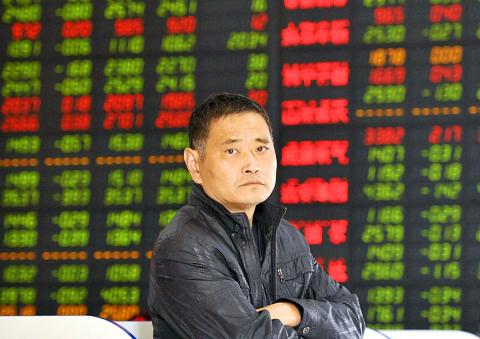 An investor stands in front of an electronic board showing stock information at a brokerage house in Fuyang, Anhui Province, China, on Monday last week.
Photo: Reuters
Hong Kong's currency is pegged to the greenback.
While China's yuan appreciated more than 23 percent since a link to the US dollar ended in July, analysts predict it is to weaken 4 percent from now through the end of next year. A three-month volatility measure averaged 3.03 percent this year, the highest since the European credit crisis of 2011. The currency was trading at 6.3610 per US dollar as of 1:07pm in Shanghai yesterday.
Expectations for price swings surged after the People's Bank of China surprised investors with the devaluation and said it would allow markets a bigger role. While the authority has cut interest rates six times in the past 12 months, the prospect of a US Federal Reserve rate increase adds downward pressure on the yuan.
"The odds probably favor further dollar strength over the coming weeks if the macro news flow continues to improve in the US and China cuts interest rates again," said Nicholas Ferres, Singapore-based investment director at Eastspring Investments, which oversees about US$118 billion.
Yields on junk-rated dollar Chinese corporate US currency notes, mostly from the real-estate sector, have dropped 176 basis points since the beginning of September to 8 percent now, near the lowest since May 2013, according to a Bank of America Merrill Lynch index.
Future Land Development Holdings Ltd's US$350 million 10.25 percent 2019 bonds, sold at 99.046 cents on the dollar last year, were trading at 108.4 cents in Hong Kong.
On July 31, analysts saw the US dollar buying between 6 and 6.95 yuan by the end of next year. Those estimates have become more diverse, ranging from 6.20 to 7.85, or as much as 19 percent weaker than at present.
Investors can no longer say with certainty that the yuan would appreciate, said Koon How Heng, a senior foreign-exchange strategist at Credit Suisse AG's private banking and wealth management unit in Singapore. "They have started to take a renewed interest to hedge forward currency risks and liabilities."
Comments will be moderated. Keep comments relevant to the article. Remarks containing abusive and obscene language, personal attacks of any kind or promotion will be removed and the user banned. Final decision will be at the discretion of the Taipei Times.