Toyota invests US$1bn in artificial intelligence in US
SMART CARS: The new research center is to be headed by robotics expert Gill Pratt, who said its goals are to support older people at home and eliminate car accidents
Toyota Motor Corp is investing US$1 billion in a research company it is setting up in Silicon Valley to develop artificial intelligence and robotics, underlining the Japanese automaker's determination to lead in futuristic cars that drive themselves and apply the technology to other areas of daily life.
Toyota president Akio Toyoda yesterday said the company will start operating from January next year, with 200 employees at a Silicon Valley facility near Stanford University. A second facility will be established near Massachusetts Institute of Technology in Cambridge.
The investment, which will be spread over five years, comes on top of US$50 million Toyota announced earlier for artificial intelligence research at Stanford and MIT.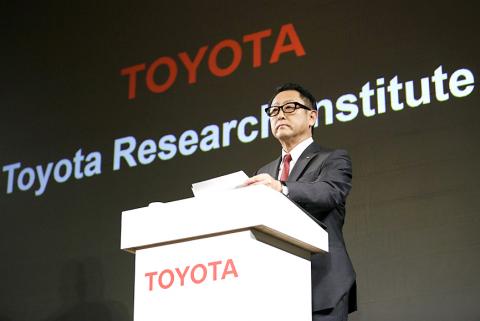 Toyota Motor Corp president Akio Toyoda announces at a news conference in Tokyo, Japan, yesterday that Toyota will establish a new artificial intelligence research and development company.
Photo: EPA
Toyota said its interest extended beyond autonomous driving, which is starting to be offered by some automakers and being promised by almost all of them.
The technology was pointing to a new industry for everyday use, delivering a safer lifestyle overall, the company said.
Toyota has already shown an R2-D2-like robot designed to help the elderly, the sick and people in wheelchairs by picking up and carrying objects. The automaker has also shown human-shaped entertainment robots that can carry on conversations and play musical instruments.
As the world's top auto manufacturer, Toyota already uses sophisticated robotic arms and computers in auto production, including doing paint jobs and screwing in parts.
To drive home the message that the automaker's vision was more than about just cars, Toyoda appeared at a Tokyo hotel with high-profile robotics expert Gill Pratt, who will head the new organization called Toyota Research Institute Inc.
Pratt was formerly a program manager at the US military's Defense Advanced Research Projects Agency. He joined Toyota as a technical adviser when it set up its AI research effort at Stanford and MIT.
Pratt said the company's goals are to support older people in their homes with robotics, make cars free of accidents and use artificial intelligence to allow all people to drive regardless of ability.
He said that coming up with a car as smart as a human being will take a long time, but that also meant the competition had just begun and no one was ahead significantly.
The new company will be hiring researchers and engineers, according to Toyota, which on Thursday kept its profit forecast for the fiscal year through March next year unchanged at ¥2.25 trillion (US$18.5 billion). The maker of the Prius hybrid and Camry sedan is on track to sell about 10 million vehicles around the world this year.
Toyoda, ranked by Forbes in this year's "powerful people" list as the most powerful Japanese, said he looks forward to working with Pratt because they share a vision.
"The goal is to do away with the tragedy of car accidents," he said.
Comments will be moderated. Keep comments relevant to the article. Remarks containing abusive and obscene language, personal attacks of any kind or promotion will be removed and the user banned. Final decision will be at the discretion of the Taipei Times.