Second engine not fitted with cheating device: VW
German automaker Volkswagen (VW) steered clear of a fresh blow in its emissions-rigging scandal, saying that another type of diesel engine which had raised concerns was not fitted with software designed to dupe testers.
"It is now confirmed" that the questionable software fitted on 11 million vehicles "is not installed" in the type of diesel engines that had replaced the EA189 engines, which are at the heart of the massive scandal.
A company spokesman had earlier said that the automaker was checking whether another engine, the EA288, was also equipped with the cheating device. The EA288 engines replaced the EA189 engines, which have plunged Volkswagen into the worldwide crisis.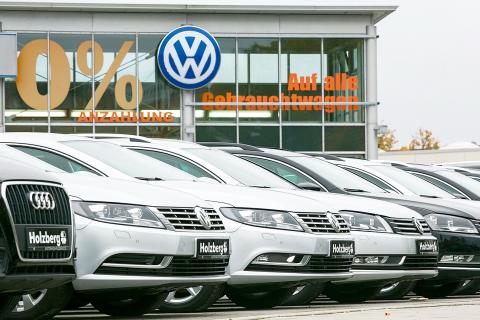 Used Volkswagens sit for sale outside a VW car showroom in Braunschweig, Germany, on Thursday.
Photo: Bloomberg
Volkswagen said that the EA288 engines within the EU are not fitted with the software and consequently "new vehicles of the Volkswagen Group offered within the European Union with those engines comply with legal requirements and environmental standards."
The company headquartered in Wolfsburg, Germany, last month admitted to fitting 11 million vehicles of its various brands — VW, Audi, Skoda and SEAT — with the rogue devices, engulfing the world's biggest automaker by sales in an unprecedented crisis.
The software turns on pollution controls when the vehicle is undergoing official emissions tests and switches them off when the car is back on the road, allowing it to spew out harmful levels of dangerous gases.
Investigations over the diesel engines equipped with the pollution cheating device are under way in several nations, including the US, Italy, Spain, France and Germany.
Volkswagen announced on Thursday the recall of 17,057 Amarok trucks sold in Brazil as part of a much bigger scandal.
The company is preparing for a massive recall of affected vehicles, which it has to repair so they can meet environmental standards in the nations concerned.
Comments will be moderated. Keep comments relevant to the article. Remarks containing abusive and obscene language, personal attacks of any kind or promotion will be removed and the user banned. Final decision will be at the discretion of the Taipei Times.