Asian markets rally after ECB flags more stimulus
'READY TO ACT': European Central Bank President Mario Draghi said the bank was willing to stoke the eurozone economy with a variety of available monetary policies
Asia extended a global stock rally yesterday after the European Central Bank (ECB) signaled its readiness to inject more stimulus, helping the US dollar scale to a fresh two-month peak against the euro.
Japan's Nikkei 225 closed 2.1 percent higher, ending the week up 2.9 percent, while the Shanghai Composite added 1.4 percent, on track for a weekly gain of 0.7 percent.
Hong Kong shares jumped more than 1 percent yesterday, after Chinese President Xi Jinping (習近平) said the economy will not suffer a hard landing, ending the week up by 0.4 percent.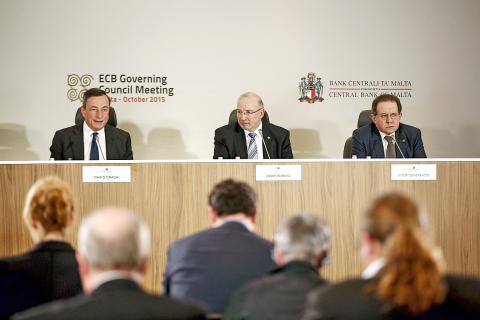 European Central Bank President Mario Draghi, left, Central Bank of Malta Governor Josef Bonnici, center, and European Central Bank Vice President Vitor Constancio host a news conference in Valletta, Malta, on Thursday.
Photo: Bloomberg
"Investors and traders are buying the idea of expected action out of the Bank of Japan and the ECB," said Ben Le Brun, market analyst at trading platform provider OptionsXpress.
"In effect, what we might see in the short term is cheering for any bad data out of those two economies."
After the ECB held policy steady at its meeting on Thursday as widely expected, central bank President Mario Draghi told a news conference that ECB policymakers were ready to stoke the eurozone economy as needed.
Draghi said falling inflation expectations, driven in part by lower-than-expected demand for oil, have led the central bank to consider a wide variety of possible measures, including a deposit rate cut, to shore up inflation.
"We are ready to act if needed ... and we are open to the full menu of monetary policy," Draghi said. "The Governing Council has tasked the relevant committee to examine the pros and cons of various measures ... The attitude is not wait and see, but work and assess."
The euro marked its largest one-day percentage drop against the US dollar in nine months on Thursday. The common currency held steady at US$1.1108 yesterday, after earlier falling to a two-month nadir of US$1.1072.
Eyes are now on a Bank of Japan (BOJ) meeting next week amid speculation it will further loosen monetary policy to counter a downturn in the world's third-largest economy, while Japan's latest earnings season also kicks off.
Investors are also looking for signs on the timeline for a long-anticipated US Federal Reserve interest rate hike.
"When [ECB executive board member Benoit] Coeure said in May that the ECB could expand its QE, the euro fell below US$1.10, but what's different now from that time is the US monetary policy outlook," said Minori Uchida, chief currency strategist at the Bank of Tokyo-Mitsubishi UFJ.
"While Fed officials are talking about the possibility of a rate hike in December, whether it is really possible will be a focus next week," he said.
The Fed is to meet on Tuesday and Wednesday, after its policymakers opted to hold interest rates steady last month. The Chinese central bank's injection of 105.5 billion yuan (US$16.6 billion) into 11 banks via its medium-term lending facility this week, combined with possible additional stimulus from the ECB, "might give the Fed more reason to raise rates by year end," said Chris Brankin, chief executive officer of online trading platform TR Ameritrade Asia in Singapore.
Comments will be moderated. Keep comments relevant to the article. Remarks containing abusive and obscene language, personal attacks of any kind or promotion will be removed and the user banned. Final decision will be at the discretion of the Taipei Times.