Sentiment hits 34-month low: TIER
The business climate gauge for the domestic manufacturing and service sectors dropped last month and companies have yet to see any light at the end of the tunnel, the Taiwan Institute of Economic Research (TIER, 台經院) said yesterday.
The sentiment reading for the manufacturing industry stood at 90.38 last month, down 1.39 points from 91.77 in July to a 34-month low, the Taipei-based think tank said.
"Manufacturers feel like they remain stuck in a long, winding tunnel without the exit in sight," TIER economic forecasting center director Gordon Sun (孫明德) told a media briefing, citing a monthly survey.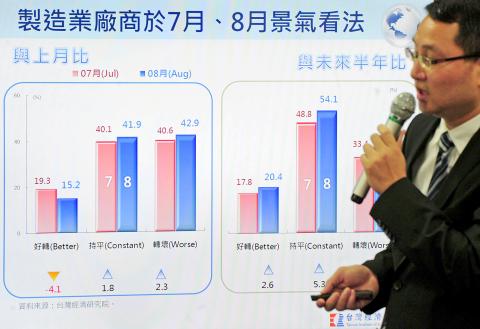 TIER economic forecasting center director Gordon Sun explains the performance of the manufacturing industry in July and last month, as well as the economic outlook, yesterday in Taipei.
Photo: CNA
The launch of Apple Inc's new iPhone models failed to lift confidence, probably because the smartphone market has grown increasingly saturated, Sun said.
A majority of respondents, 54 percent, expect their business outlook to stagnate in the next six months, the survey found.
Only 20.4 percent said the situation may improve going forward, up 2.6 percentage points from a similar survey conducted in July, while 25.5 percent are looking at a decline in business, down 7.9 percentage points from a month earlier, the survey said.
Firms involved in textile and garment production are most pessimistic, at odds with the advent of the sales season ahead of the Lunar New Year, while those in the steel segment also appeared more downbeat about their business than their manufacturing peers in Taiwan, Sun said.
The business sentiment reading for the service sector fell to 83.73 last month, a retreat of 4.64 points from July to the lowest level in six-and-a-half years, the survey said.
The institute said the retail sector appeared more downbeat about its business outlook over the next six months.
The softening trend showed that domestic demand cannot hold amid faltering exports, Sun said, adding that demand for logistics service providers and warehouses declined sharply.
The construction industry fared slightly better last month, with the climate gauge gaining 1.25 points to 80.6, thanks to demand for reconstruction work to clean up in the aftermath of Typhoon Soudelor, the survey said.
Growing unaffordability and expectations of price falls will continue to weigh on the sector, despite the central bank's interest rate cut announced on Thursday, the institute said.
Comments will be moderated. Keep comments relevant to the article. Remarks containing abusive and obscene language, personal attacks of any kind or promotion will be removed and the user banned. Final decision will be at the discretion of the Taipei Times.