BenQ looking to expand hydrogel lens market
BenQ Materials Corp (明基材料) yesterday said that it hopes to take a larger share of the nation's NT$5 billion (US$151.6 million) contact lens market following the launch of its silicone hydrogel products.
The company did not provide a target figure, but said it plans to continue expanding into the healthcare and medical consumables business.
"Compared with other competing products, silicone hydrogel contact lenses have a penetration rate of only 6 percent in Taiwan, where we control 49 percent of the market," BenQ Materials chairman Z.C. Chen (陳健志) said at a product launch in Taipei.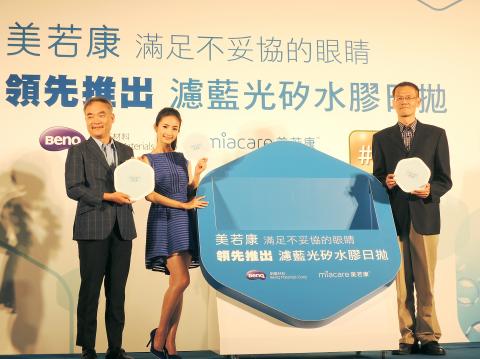 BenQ Materials Corp chairman Z.C. Chen, left, actress Ariel Lin, center, and BenQ Materials vice president Adrian Chang hold up images of hydrogel lenses at a product launch in Taipei yesterday.
Photo: Chen Mei-ying, Taipei Times
The market penetration for silicone hydrogel contact lenses in Malaysia and Singapore has risen to about 40 percent, but adoption in Taiwan has been hampered by cost-consciousness, Chen said.
Taiwanese consumers are also not as aware of the benefits of silicone hydrogel lenses, such as improved comfort and reduced probability of eye damage, he said.
"We do not deny that our silicone hydrogel products are more expensive than rival contact lens offerings, but there is much room for growth," he said.
BenQ Materials has about 1,000 distributors in Taiwan, 600 in Malaysia and 80 in Singapore for its contact lens products. The company plans to move into the Chinese market in the near future pending regulatory approval, Chen said.
The company's new series of silicone hydrogel contact lenses have an oxygen permeability rating of 150 DK/t, well above the 25 DK/t rating found in many rival products, BenQ Materials vice president Adrian Chang (張安佐) said.
Studies have found that inadequate oxygen supply to the eye is among the leading causes of irreparable eye damage, Chang said.
Chen said that while its optical polarizer units still account for 90 percent of its overall sales, contributions from its contact lens, medical consumable and healthcare products should continue to increase.
However, Chen declined to provide details on the sales contribution by each of its new healthcare and medical business units.
BenQ Materials reported that revenue last month declined 13.15 percent year-on-year to NT$1.19 billion, while aggregate sales during the first eight months of the year slid 9.93 percent from last year to NT$11.02 billion.
The company yesterday launched three types of silicone hydrogel contact lenses under its Miacare (美若康) brand: All three are designed with high oxygen permeability for comfort, one can filter out harmful blue light emitted by mobile device screens and another one features a violet-colored iris ring for cosmetic effects.
BenQ Materials' new businesses include medical-grade hemostatic and hydrocolloid dressing and gels, in addition to acne medication. The company's parent, BenQ Group, also operates two hospitals in China.
BenQ Materials shares rose 3.7 percent to NT$21 in Taipei trading yesterday.
Comments will be moderated. Keep comments relevant to the article. Remarks containing abusive and obscene language, personal attacks of any kind or promotion will be removed and the user banned. Final decision will be at the discretion of the Taipei Times.