ARM to double its work force at Hsinchu center
ARM Holdings PLC, which designs processors including those that power Apple Inc's iPhones, yesterday said it plans to double its work force at a newly launched central processing unit (CPU) design center in Hsinchu, with an eye to seizing business opportunities in the Internet of Things (IoT) era.
The design center, the first of its kind in the Asia-Pacific region for the British company, has 43 employees, with plans to expand it to about 100 before the end of the year, ARM said.
The center consists of three teams led by a CPU design team with 20 engineers that focuses on developing embedded chips and ARM's Cortex-M series used in IoT devices, including smart lighting, medical equipment or robotics.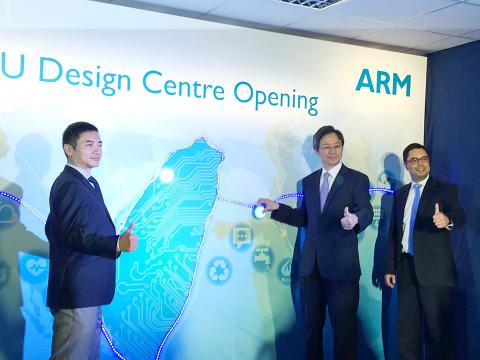 James McNiven, right, general manager of ARM Holdings PLC's central processing unit group, and Allen Wu, left, president of ARM for Greater China, give a thumbs-up sign yesterday at a press conference in Hsinchu.
Photo: Hung Yu-fang, Taipei Times
"Our target is that the Hsinchu team will be able to design its own CPUs in the next few years," James McNiven, general manager of ARM's CPU group, said on the sidelines of a media briefing in Hsinchu.
"The Hsicnhu team will focus on the very energy-efficient, very small microcontrollers that will power billions of billions of future devices," he said.
McNiven said that support and design at the center would make a positive difference to people's lives, including improvements in the fields of agriculture, energy and transportation.
There would be hundreds of millions of devices that would be developed in the next five to 10 years, he said.
Allen Wu (吳雄昂), executive vice president and president of ARM for Greater China, said the company is considering launching an "accelerator" program in Taiwan to help technology startups to launch new IoT applications faster by using ARM hardware and software solutions.
The company launched the program in Beijing early this month. Horizon robotics Inc (地平線機器人科技) is one of the first companies to join ARM's accelerator program, Wu said.
Last year, Taiwanese chip designer MediaTek Inc (聯發科) launched its "Linkit" platform in an effort to help small companies develop IoT devices.
Comments will be moderated. Keep comments relevant to the article. Remarks containing abusive and obscene language, personal attacks of any kind or promotion will be removed and the user banned. Final decision will be at the discretion of the Taipei Times.