Asian shrimp imports are chewing up US suppliers
Cheaper imports from Indonesia, Ecuador and India are displacing domestic supplies, making it increasingly difficult for US fishermen to survive during the off-season
The most popular seafood in the US is not very American anymore, but it sure is getting cheaper.
A surge of imported shrimp from Indonesia, Ecuador and India has sent prices plunging by more than a third in the past year. While that is good news for consumers, who eat more of the crustaceans than any aquatic creature, including salmon and tuna, record supplies from foreign shrimp farms is compounding the strain on US fishermen, who have seen their share of the domestic market shrink to about 10 percent.
At Wood's Fisheries, a Florida processor that sells about 8 million pounds (3,600 tonnes) of wild US shrimp a year to grocers including Whole Foods and Wegmans, some frozen stockpiles of brown shrimp from the Gulf of Mexico now fetch US$3.50 a pound or less than half of their cost last year at US$7.20. Wood's is stuck with 1.5 million pounds of that variety, which accounts for a third of its business, vice president of operations Reese Antley said.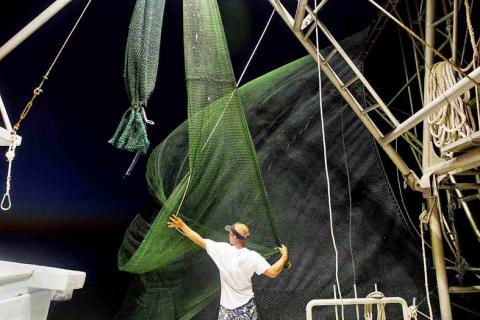 A shrimper ties up the nets after a day's catch on a shrimping boat off the coast of Grand Isle, Louisiana, on Oct. 22 last year.
Photo: Bloomberg
"There are some processors that will not make it through these lower numbers, and some boats that will not make it," Antley said by telephone from Port St Joe, Florida.
It was not always so bleak for US producers. As recently as two decades ago, shrimp supplies were limited enough to be considered a gourmet food, competing with steak at restaurants. The market changed as aqua-farming technologies improved. US researchers in the 1990s began breeding a pathogen-free white shrimp, a technique adopted in Asia and Latin America that eventually led to an explosion of commercial production.
By the early 2000s, a wave of imports began arriving in the US that turned shrimp into more of a commodity, said David Veal, executive director of the American Shrimp Processors Association in Biloxi, Mississippi.
Shrimp are shoveled into a holding chamber aboard a trawler in the Gulf of Maine on Jan. 6, 2012.
Photo: AP
All-you-can-eat promotions became more common, like "Endless Shrimp" at Red Lobster restaurants. Global production of farmed white shrimp in 2013 reached 3.3 million tonnes, compared with 92,000 tonnes in 1990, the Food and Agriculture Organization said.
The shift away from fishing boats is not unique to shrimp. The world now consumes more fish farmed in lakes and coastal waters — an activity also known as aquaculture — than those caught at sea.
While shrimp imports have been growing for years, supplies tightened two years ago when disease wiped out 47 percent of the harvest in Thailand, the world's biggest exporter. Prices reached all-time highs, encouraging even more production in Indonesia, Ecuador and India.
That increased supply has begun arriving in the US. Imports this year through July totaled 316,118 topnnes, an all-time high for that period and 6.1 percent higher than a year earlier, US Department of Agriculture (USDA) data showed.
In 2013, Americans ate 3.6 pounds per person, compared with 2.7 pounds of salmon and 2.3 pounds of canned tuna, according to the National Fisheries Institute.
"This year, we've had so much shrimp," said Angel Rubio, chief market analyst at research company Urner Barry, which has been tracking food costs since 1858.
With global output continuing to rise, "there's just no way prices are not going to go down," he said.
Cheaper overseas imports have displaced domestic supplies, which the USDA valued at about US$600 million last year. Harvests in the Gulf of Mexico, which account for most of US-sourced shrimp, slumped to 18,316 tonnes this year through July, down 35 percent from five years ago, according to the National Marine Fisheries Service.
US shrimp boats fish mainly between May and December. Fresh shrimp on dinner plates is rare because the flesh turns black within days, even when chilled on ice. They are mostly frozen after being caught and can be kept for years if stored in five-pound blocks of ice.
Prices have dropped so much that many domestic fishermen are not able to maintain their boats or sustain themselves in the off-season months, Louisiana Shrimp Association president Clint Guidry said.
"If something doesn't change and prices don't rise, fishermen cannot continue to work for these prices," Guidry said.
Many have already given up, contributing to the slide in domestic output. The number of permits for shrimping boats is down 24 percent since 2007 to 1,470, according to National Marine Fisheries Service data. The industry was also hurt by major hurricanes like Katrina and Isaac, which destroyed boats, docks and processing plants, and the 2010 oil spill at a BP PLC rig in the gulf.
For now, booming global production of farmed shrimp has been more than sufficient to make up for declines in the Gulf and meet rising demand from China. Crustacean consumption in China rose by a third in the five years through last year to 4.4 million tonnes, London-based researcher Technavio estimates.
Lower prices have been a boon to consumers. Joey Gonzalez, owner of Joey's Shrimp House in Chicago, estimates his costs are down 30 percent from last year. He is reducing the price of fried shrimp by the most since he opened five years ago, to US$13 a pound from US$17.
"People don't know that prices went down, but I do, so I want to be fair," Gonzalez said.
Comments will be moderated. Keep comments relevant to the article. Remarks containing abusive and obscene language, personal attacks of any kind or promotion will be removed and the user banned. Final decision will be at the discretion of the Taipei Times.