China to let pension funds buy stocks
INVESTOR CONFIDENCE: In an attempt to stabilize the market, China is considering pension fund investments as a cash injection in the stock market for the first time
China cleared the path for local authority pension funds to invest in the stock market for the first time, potentially channeling hundreds of billions of yuan into the country's struggling Shanghai exchange.
After a week of turbulence that sent world stock markets spiraling to their worst weekly loss for the year, Xinhua, China's official news agency, reported on Sunday that under the new rules, the fund will be allowed to invest up to 30 percent of its net assets in domestically listed shares.
The move, which is likely to be seen as a brazen attempt to inject pension cash into the market to shore up prices and restore investor confidence, comes ahead of several reports that are likely to show the world's major economies struggling to recover as China's main industries slow down.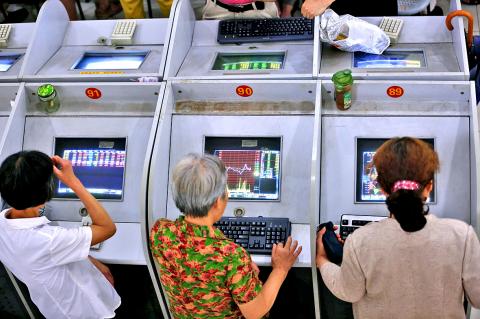 Investors look at computer screens showing stock information at a brokerage in Shanghai, China, yesterday.
Photo: Reuters
A febrile atmosphere in currency and stock markets is also expected to persist as traders look ahead to gathering this weekend of central bankers in Jackson Hole, Kansas, where the focus is to be on the Federal Reserve meeting next month to consider raising US interest rates for the first time since 2006.
Stock markets dived last week as the looming prospect of a rate rise combined with figures showing the Chinese economy growing at a slower pace than previously forecast unnerved investors.
Hopes that the Shanghai market can stabilize appear to be largely dependent on the Beijing authorities offsetting a run of weaker economic growth figures with moves to liberalize investment rules on state and private fund managers.
Previously, Chinese pension funds could only invest in bank deposits and treasuries.
Together the funds have assets of more than 2 trillion yuan (US$322 billion) that can be invested, meaning about 600 billion yuan could theoretically go into the stock market, state media has estimated.
According to the new rules, pension funds can also invest in convertible bonds, money-market instruments, asset-backed securities, index futures and bond futures in China, as well as the country's major infrastructure projects.
Nevertheless, further turbulence is expected this week after a slump in oil prices that signaled a further slowdown in the global economy.
World trade has declined in every month this year so far, indicating that businesses and consumers have become increasingly wary of committing themselves to expensive purchases.
Eagerly awaited second-quarter GDP figures for the US, due today, are expected to give a clue as to the strength of the world's largest economy.
Analysts at Investec Economics said: "It will be all eyes on the Chinese authorities for any further policy support steps, alongside the People's Bank of China yuan fixings and trading swings."
China is also widely expected to relax reserve requirements ratios for its banks again in the coming months, a measure intended to spur lending by reducing the cash they need to hold. It is trying to keep its economy on course to grow 7 percent this year — its slowest pace in a quarter of a century.
"We continue to expect a total of 100 basis points of reserve requirement ratio cuts by end-2015, with the first cut likely to take place within the next two weeks," economists at Standard Chartered said.
The cash reserves ratio has already been cut three times this year.
Comments will be moderated. Keep comments relevant to the article. Remarks containing abusive and obscene language, personal attacks of any kind or promotion will be removed and the user banned. Final decision will be at the discretion of the Taipei Times.