Bitcoin exchange CEO to face new allegations: media
FRESH WARRANT: Mark Karpeles is accused of pocketing US$2.6 million worth of bitcoin deposits which he reportedly spent on software rights
Japanese police are to re-arrest the chief executive of collapsed bitcoin exchange Mt Gox Co Ltd on theft allegations, reports said yesterday, as he faces questions over the disappearance of hundreds of millions of dollars worth of the virtual currency.
France-born Mark Karpeles, 30, was taken into custody in Tokyo this month over claims he manipulated data to artificially create about US$1 million worth of the digital money.
He has been held without formal charges for three weeks, as allowed under Japanese law, but the Yomiuri Shimbun said police plan to issue a fresh arrest warrant accusing him of pocketing US$2.6 million worth of bitcoin deposits.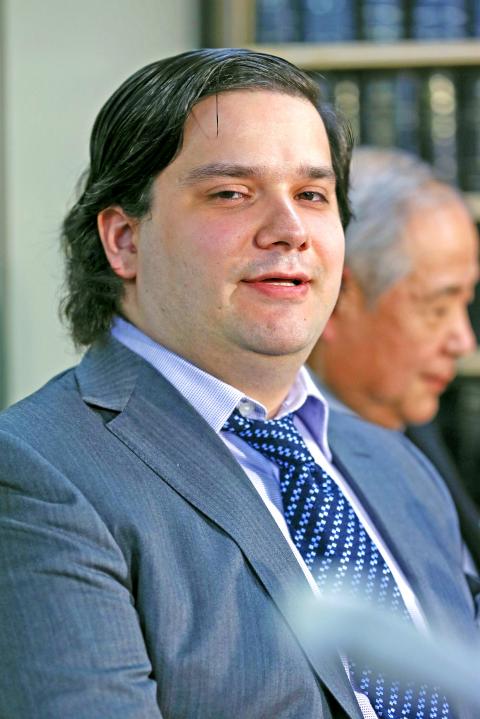 Mark Karpeles, chief executive officer of collapsed bitcoin exchange Mt Goxof, attends a news conference in Tokyo, Japan, on Feb. 28 last year.
Photo: EPA
The report, which cited investigators, said the self-described computer geek spent most of that money on buying software rights, but also splashed out about US$48,000 for a luxury bed.
Japanese police can interrogate a suspect for 20 days following their arrest, but with Karpeles' time in custody set to end this week, a fresh arrest warrant would reset the clock on how long police can hold him.
Karpeles was first taken into custody over claims he fraudulently tinkered with data and transferred funds to other firms controlled by him dozens of times between 2011 and 2013.
However, police are also reportedly interested in questioning Karpeles about the disappearance of 850,000 bitcoins worth ¥48 billion (US$402 million) last year. They were valued at about US$480 million at the time of the disappearance.
The exchange filed for bankruptcy protection soon after the cybermoney went missing.
Karpeles later said he had found some 200,000 of the lost bitcoins in a "cold wallet" — a storage device, such as a memory stick, that is not connected to other computers.
Comments will be moderated. Keep comments relevant to the article. Remarks containing abusive and obscene language, personal attacks of any kind or promotion will be removed and the user banned. Final decision will be at the discretion of the Taipei Times.