Chinese housing prices increase for third month
Chinese home prices rose for a third consecutive month last month, fueled by a pick-up in sales and market sentiment, a rare counterpoint to a growing list of grim indicators in the world's second-largest economy.
Average new home prices rose 0.3 percent last month from June, according to Reuters calculations based on data released by the National Bureau of Statistics yesterday, slightly slower than June's 0.4 percent rise.
Even a modest recovery in a sector that accounts for about 15 percent of GDP is a welcome boost for an economy heading for its weakest growth in 25 years.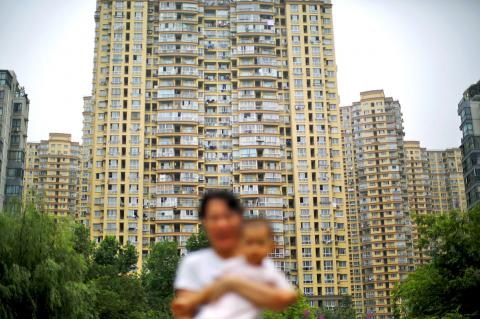 A woman holds her son in a playground in a residential area in Shanghai on July 26 last year. China's home prices rose for a third straight month last month as market sentiment picks up.
Photo: Reuters
Property sales bottomed out during the first half of this year after declining for more than a year, propped up by a barrage of government support measures since September last year, including a series of interest rate cuts and lower downpayment requirements.
Exports have tumbled, investment growth has hit repeated lows and the stock market crashed 30 percent in a matter of weeks, keeping policymakers busy with an unprecedented array of support measures, including a currency devaluation and repeated attempts to increase lending.
While policy measures and increased lending helped fuel a wave of pent-up home buying in recent months, a huge overhang of unsold houses in smaller cities keeps the sector under pressure.
China's overall real-estate investment growth continued to slow in the first seven months of the year, but property sales and housing investment improved.
Compared with a year ago, home prices still fell 3.7 percent last month, easing from the previous month's 4.9 percent drop, Reuters calculated from bureau data showed.
The data showed home prices across China rose month-on-month in 31 of the 70 major cities monitored, up from 27 in June.
Prices in first-tier cities such as Beijing, Shanghai and Shenzhen led the recovery.
Comments will be moderated. Keep comments relevant to the article. Remarks containing abusive and obscene language, personal attacks of any kind or promotion will be removed and the user banned. Final decision will be at the discretion of the Taipei Times.