Samsung counts on wraparound screen, payment system in new Apple challenge
Samsung Electronics Co's first Galaxy S6 smartphones could not fend off gains by Apple Inc. Now the South Korean company is counting on a bigger wraparound screen and mobile payment system to sway customers.
The S6 Edge Plus and the Note 5 unveiled on Thursday are to include Samsung Pay when they go on sale this month. The payment service is to debut in Samsung's home market on Thursday and be available to US owners of its high-end Galaxy devices next month.
Samsung is to get the jump on Apple before the expected release next month of successors to the iPhone 6 and iPhone 6 Plus, which have won over premium users. The 5.7 inch (14.5cm) screens and addition of payments are meant to help Samsung stand out from the array of inexpensive devices by Chinese vendors using the same Android software.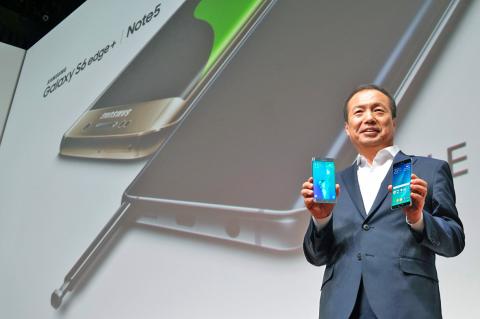 Samsung Electronics mobile division head Shin Jong-kyun holds the Galaxy S6 Plus, left, and the Galaxy Note 5, right, during an event to showcase the phablets, a combination of smartphone and tablet PC, on Thursday in New York.
Photo: EPA
"Samsung used to unveil its Note series in September," said Seoul HMC Investment Securities Co analyst Greg Roh, who rates the stock a buy.
"The latest unveiling comes about a month earlier, showing it can no longer tolerate losing the oversized phone market to Apple," he said.
A botched strategy saw Samsung misread demand for the S6 models released in April, failing to produce enough three-sided screens for the Edge while the regular version struggled against the bigger iPhones.
Samsung's global smartphone market share fell more than 3 percentage points in the second quarter amid a surge in sales for iPhones and devices from Huawei Technologies Co (華為), Lenovo Group Ltd (聯想) and Xiaomi Corp (小米). Samsung had 21.7 percent of the market and Apple 14.1 percent, according to researcher International Data Corp.
Samsung has lost more than US$43 billion in market value from the year's peak in March after posting its fifth straight quarterly profit decline.
"It's a mature market," Samsung Mobile's deputy president for Europe Jean-Daniel Ayme said in an interview in London.
"But we're very confident when we look at the behavior of consumers around the world that there is still a lot of demand for innovation and new technology," he said.
The digital wallet is seen as helping Samsung compete against Google Inc and eBay Inc's PayPal for a slice of the US mobile-payments market, which Forrester Research estimates could be worth US$142 billion by 2019.
Samsung is confident even though its payment service comes almost a year after Apple's. Unlike Apple Pay, Samsung's can work with the magnetic-strip card readers that are common in stores and restaurants.
On top of that, Samsung is not charging banks and credit-card issuers transaction fees.
"They should have a larger contingent of financial institutions in a shorter period of time," Crone Consulting LLC chief executive officer of mobile-payment researcher Richard Crone said.
"The issuers are using this to pressure Apple to renegotiate their deal," he said.
Samsung said it is teaming up with American Express Co, Visa Inc and MasterCard Inc, as well as Bank of America Corp, JPMorgan Chase & Co, Citigroup Inc and US Bancorp, among others, for the service.
"It's not about being first in the market, but creating compelling technology," Samsung Electronics executive vice president Injong Rhee said at an event in New York where Samsung unveiled the new service and phones.
At the event at Lincoln Center's Alice Tully Hall, Samsung also showed a brief video clip teasing its next smartwatch. The short video ended with the release date: Sept. 3.
Comments will be moderated. Keep comments relevant to the article. Remarks containing abusive and obscene language, personal attacks of any kind or promotion will be removed and the user banned. Final decision will be at the discretion of the Taipei Times.