Extreme measures not needed, Malaysian bank says
BRACE FOR VOLATILITY: Malaysian economists are confident that the economy has been diversified since the Asian financial crisis and steady growth can continue
Malaysia's central bank yesterday said there is no need for "extreme measures" such as pegging the currency or capital controls to halt a slide in the ringgit.
The Malaysian currency has slumped by 20 percent since September last year and sank below four to the dollar on Wednesday following China's surprise devaluation of the yuan. Yesterday, US$1 was buying 4.02 ringgit.
Bank Negara Malaysia Governor Zeti Akhtar Aziz said the volatility in the ringgit was due to external challenges as well as "domestic issues that have generated uncertainties," in reference to controversy over debt laden state investment fund 1MDB.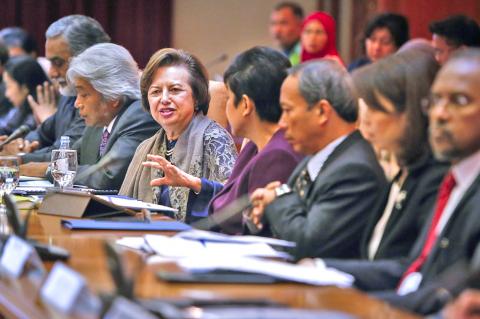 Malaysian Central Bank Governor Zeti Akhtar Aziz, center, answers questions from journalists after a second-quarter GDP announcement yesterday in Kuala Lumpur, Malaysia.
Photo: AP
She said a flexible exchange rate regime is crucial and that the financial system is strong enough to absorb the shock.
"I want to categorically emphasize that we do not intend to peg the currency," Zeti said at a news conference.
"We are not imposing capital controls. We have moved on from that. We cannot have knee-jerk reactions because any knee-jerk reactions will be temporary in their effects," she said.
Malaysia pegged the ringgit at 3.80 to the US dollar and imposed capital curbs in September 1998 to halt capital flights during the Asian financial crisis.
The peg, which meant the movement of the ringgit was linked to the dollar, was removed in 2005.
Zeti said the central bank was still comfortable with the level of the country's foreign exchange reserves, despite a recent drop.
She said Malaysia experienced much worse during the Asian financial crisis but has since strengthened its financial systems and diversified its economy.
Growth slowed to 4.9 percent in the April-June quarter this year, from 5.6 percent in the first quarter, but the economy remained resilient and is likely to remain on a steady growth path of between 4 and 6 percent for the rest of this year, she said.
"Why should we have extreme measures when we are not in an extreme situation?" she said.
Zeti said Malaysia has to brace for more volatility in the next few months but voiced confidence that "we will be able to bounce back quickly from any setback."
Zeti said Bank Negara has completed its investigations into alleged mismanagement at 1MDB, which has accumulated 42 billion ringgit (US$11.3 billion) in debt since it was formed in 2009 to develop new industries. She said the report was submitted last week to the attorney-general.
However, the central bank is not investigating the US$700 million in Prime Minister Najib Razak's bank accounts that authorities said came from donations in the Middle East as the matter is not under their jurisdiction, she said.
Zeti indicated she is to step down once her tenure ends in April next year.
She said she would have completed 16 years in office at that time and would like to focus on writing a book.
Comments will be moderated. Keep comments relevant to the article. Remarks containing abusive and obscene language, personal attacks of any kind or promotion will be removed and the user banned. Final decision will be at the discretion of the Taipei Times.