Toyota senior executive arrested over painkillers
Toyota Motor Corp moved into damage control yesterday after its new chief communications officer Julie Hamp, an American and its first senior female executive, was arrested on suspicion of illegally bringing painkillers into Japan just two months after her appointment.
Toyota president Akio Toyoda apologized for the incident at a news conference and reiterated the company's belief that Hamp had no intention of breaking the law.
"To me, executives and staff who are my direct reporters are like my children," he said.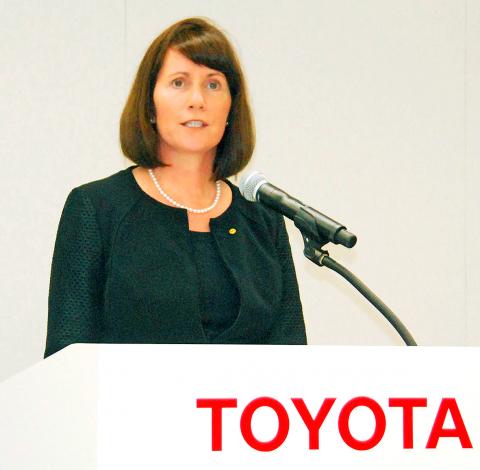 Toyota Motor Corp chief communications officer Julie Hamp speaks during a press conference in Toyota, Japan, on Wednesday.
Photo: AP
"It's the responsibility of a parent to protect his children and, if a child causes problems, it's also a parent's responsibility to apologize," Toyoda said.
Japanese media reports, citing police investigators, said 57 Oxycodone pills were found in a small parcel labeled "necklaces" that was sent from the US and addressed to Hamp in Japan. The pills were in packets or buried at the bottom of the parcel, which also contained toy pendants and necklaces, they said.
Hamp, a former General Motors Co and PepsiCo Inc executive, told police she did not think she had imported an illegal substance, a spokesman for Tokyo's Metropolitan Police Department said.
A police official declined to comment on the latest media reports about the parcel.
Hamp was appointed managing officer in April as part of a drive to diversify Toyota's male-dominated, mostly Japanese executive line-up. She joined Toyota's North American unit in 2012 and this month relocated to Tokyo, where she was to be based.
She had been staying in a hotel, a Toyota spokeswoman said.
Toyoda vowed that the automaker would maintain its policy of seeking out talent regardless of gender or nationality and expressed regret that the company had not provided enough support for an employee who was not Japanese and had come to live in Japan.
Oxycodone is a prescription drug in both the US and Japan. Bringing it into Japan requires prior approval from the government and it must be carried by the individual, a Japanese Ministry of Health official said.
Hiroaki Okamoto, a criminal defense lawyer at the Nakamura International Criminal Defense Office in Tokyo who is not involved in Hamp's case, said the large number of pills meant that, if indicted, she could face years in prison, followed by deportation.
The maximum sentence for smuggling drugs with the intent to sell is life in prison, he said. Even if indicted for smuggling for personal use, it would be tough to get a suspended sentence because of the large number of pills, he said.
Comments will be moderated. Keep comments relevant to the article. Remarks containing abusive and obscene language, personal attacks of any kind or promotion will be removed and the user banned. Final decision will be at the discretion of the Taipei Times.