Chinese stocks plummet in worst week since 2008
BUBBLE? The Shanghai Composite Index fell 6.42% yesterday and 13.32 over the week. Analysts blamed less room for easing, a new investor plateau and unsustainability
Chinese stocks tumbled yesterday — capping a brutal week that was the worst for main indices since the global financial crisis — as the country's dramatic eight-month bull run appears to be running out of fuel.
The benchmark Shanghai Composite Index dived 6.42 percent, or 307 points, to 4,478.36 on turnover of 685.5 billion yuan (US$110.4 billion). The index lost 13.32 percent over the week.
The market loss was the worst since May 28, when the index dived 6.5 percent.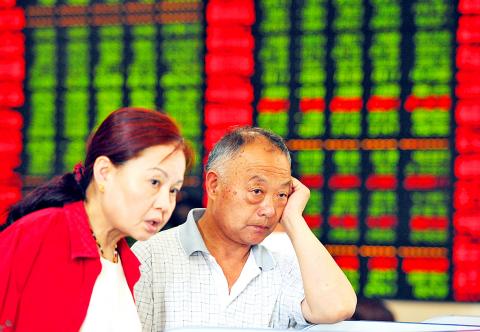 Chinese stock investors react as they check share prices at a securities firm in Fuyang, in China's Anhui Province, yesterday.
Photo: AFP
The Shenzhen Composite Index, which tracks stocks on China's second exchange, sank 5.88 percent, or 171.42 points, to 2,742.18 on turnover of 601.2 billion yuan. It fell 12.69 percent for the week.
This week's panic selloff — interrupted only by a feeble rebound on Wednesday — was triggered by fresh government moves to tighten margin financing and worsened by a tidal wave of initial public offerings that sapped liquidity.
In addition, signs of improvement in the real-estate market — home prices last month rebounded for the first time in 13 months — are causing fears that the government might no longer be eager to pump money into the economy.
"Recently, elements that curb the market's rise are emerging," Bosera Asset Management Co (博時基金管理) said in an e-mailed comment on the correction. "First... room for further monetary easing could be less than anticipated, and inflows of new investors could have peaked. Secondly, a highly-leveraged bull [market] is not sustainable."
A more-than-doubling of China's stock market, against the backdrop of a slowing economy, was largely liquidity driven, and propelled by margin loans which Bosera estimates have reached between 3 trillion and 4 trillion yuan.
Any harsh tightening of margin debt, or weaker-than-expected monetary easing measures could cause the market to fall as fast as it rose, analysts said.
More than half of investors polled by Morgan Stanley this month agreed the market is in a bubble. Fueled by monetary stimulus and record inflows from amateur investors, the index has climbed 121 percent over the past 12 months.
However, JPMorgan Chase & Co said the biggest weekly drop in Chinese stocks in seven years is a buying opportunity because the government would act to keep the bull market intact.
Authorities can reduce the pace of initial public offerings, clarify margin trading rules or encourage Chinese President Xi Jinping's (習近平) plan to build overseas transport links to boost investor sentiment, JPMorgan equity strategist Adrian Mowat said.
"Policymakers will step in if the market correction gets beyond a comfortable level," Mowat said in an interview in Hong Kong. "I would imagine if the correction continues next week, you will hear something reassuring."
The plunge is attracting some foreign investors, with net buying of mainland stocks through the Hong Kong-Shanghai bourse link yesterday climbing to the most since the day the program started in November last year.
Companies linked to popular investment themes, such as e-commerce, the new Silk Road of trade routes and pollution control, are especially attractive, Mowat said.
Given the influence of individual investors in the mainland China market, "the way you make money is to trade with the themes rather than getting caught up looking at the PE [price-earnings] multiples," he said.
Shares on Chinese exchanges trade at an average of about 256 times reported earnings. The median stock has a ratio of 98, while the Shanghai Composite, which has a heavy weighting toward low-priced bank shares, is valued at 23 times.
Additional reporting by Bloomberg
Comments will be moderated. Keep comments relevant to the article. Remarks containing abusive and obscene language, personal attacks of any kind or promotion will be removed and the user banned. Final decision will be at the discretion of the Taipei Times.