Britain to start selling holding in RBS: Osborne
British Chancellor of the Exchequer George Osborne said he would start returning Royal Bank of Scotland Group PLC (RBS) to private ownership in the coming months, even though it may cause a loss for UK taxpayers.
Shares will be sold to institutional investors first, Osborne announced in a speech at the annual Mansion House dinner in London's financial district on Wednesday.
Disposing of RBS in its entirety "will take some years," he said, though there is "no reason" why a retail offering cannot be held at a later date.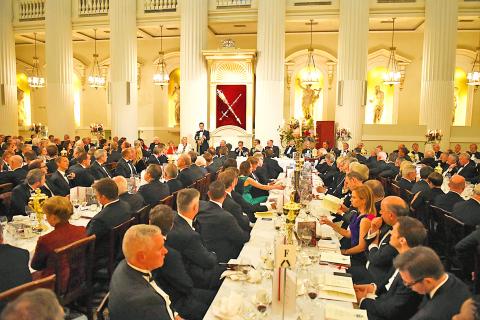 British Chancellor of the Exchequer George Osborne yesterday speaks during the Lord Mayor's Banquet for Bankers and Merchants of the City of London at the Mansion House in London.
Photo: AFP
The UK Treasury published a report by Rothschild advising it to begin selling the shares to gain maximum value.
Osborne's strengthened hand as chancellor in a majority Conservative government following last month's election allows him to commit to selling the UK's 79 percent stake in RBS earlier than anticipated. While the government will be selling some RBS shares at a loss, it has been able to recoup money by disposing of parts of its stake in Lloyds Banking Group PLC. The decision to proceed with the RBS sale was supported by Bank of England Governor Mark Carney.
"It's the right thing to do for British businesses and British taxpayers," Osborne said.
"Yes, we may get a lower price than Labour paid for it," he said, referring to the £45.5 billion [US$70 billion] bailout of RBS by [former British prime minister] Gordon Brown's government in 2008 and 2009. "But the longer we wait, the higher the price the whole economy will pay."
The Rothschild report showed that if the government sold all its remaining shares in the banks it helped bail out — including Lloyds and RBS — at share prices on Friday last week, taxpayers would recoup £14 billion more than the bailouts cost. That includes fees and other proceeds paid by the banks.
Selling the entire government stake in RBS at the current share price would lose about £7 billion. However, a sale now would pave the way for later disposals at higher prices, offsetting the potential loss.
RBS welcomed Osborne's announcement.
"We are pushing ahead with our strategy to build a simpler, stronger, fairer bank that is totally focused on the needs of its customers and centered here in the UK," CEO Ross McEwan said in a statement "When the government starts selling its shareholding, it will be selling a bank determined to be the best in the country."
Rothschild advised the Treasury not to wait for RBS to settle claims of misconduct in its handling of US mortgage securities, because the bank's share price already reflects the impact any settlement may have.
Any fine "is likely to be substantial," McEwan said during a telephone call with analysts in discussing the bank's first-quarter earnings on April 30.
A deal could come this year, but "may spill into 2016," he said.
RBS could pay as much as US$4.5 billion to resolve the claims brought in a lawsuit by the US Federal Housing Finance Agency, Bloomberg Intelligence analyst Elliott Stein wrote on May 27.
"It is not clear that there is much value to the government in waiting until the outcome of the case is known," Rothschild wrote in its analysis presented to the Treasury.
Comments will be moderated. Keep comments relevant to the article. Remarks containing abusive and obscene language, personal attacks of any kind or promotion will be removed and the user banned. Final decision will be at the discretion of the Taipei Times.