INTERVIEW: Gogoro aims to reinvent how energy is consumed
Gogoro Inc, which secured US$50 million in funding from investors such as the Ruentex Group's Samuel Yin and HTC Corp's Cher Wang prior to its establishment in 2011, is initiating another US$100 million round to fund its planned product rollout this summer. To get an up-close look at the start-up, contributing reporter Joyce Huang sat down with Gogoro vice president of marketing Peng Ming-i, who elaborated on the firm's vision
Taipei Times: What sets Gogoro apart from other electronic scooter makers?
Peng Ming-i (彭明義): We define Gogoro as a technology company, not an electric scooter maker. We bring technology and connectivity to the world of energy distribution and management — a revolutionary way to reinvent the way people consume energy. Gasoline has dominated the market for more than 100 years. When people fill up at a gas station, the station has no idea how people use the fuel or how to optimize usage, which is irrelevant to its business operation. However, if we build an energy network, we can get an idea of how, when and where people use energy.
Leveraging this data, we can plan the distribution of energy much better than any other company in the world. Through [an app on] my mobile phone, I'll know how many scooters are running in a certain corner of the city and their energy levels. With that knowledge, I'll be able to fast-charge or prepare batteries at a nearby exchange station for them to swap in the next few hours. Or, if I know there are scooters at another corner running with high power levels, I won't charge batteries at the station around that corner until, perhaps, midnight. Therefore, I can better distribute energy to the right corner at the right time, using energy in a more efficient and smarter way.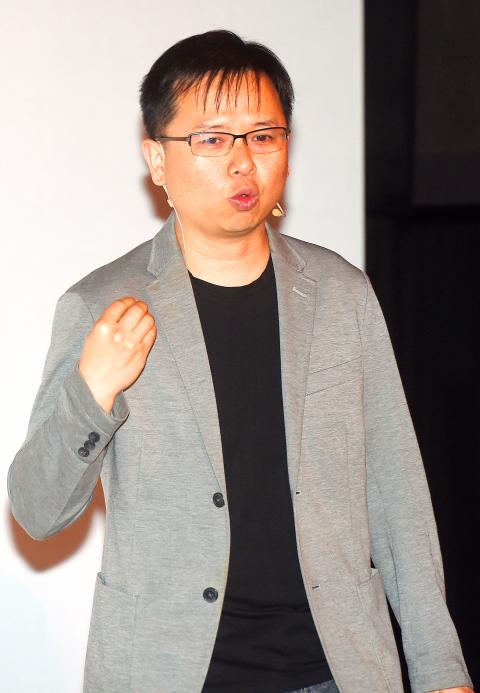 Gogoro Inc vice president of marketing Peng Ming-i speaks in Taipei on March 30.
Photo: Chien Jung-fong, Taipei Times
And, as our scooter has many built-in sensors [to keep tabs on the vehicle's condition], we can proactively help users before any [mechanical malfunction] happens. So, when you put the technologies and the connectivity of using energy together, we can really change the ecosystem, not only by building an electric scooter, but by making the vehicle transportation system more efficient and smarter.
TT: Gogoro seems to be looking at the model of touting a monthly subscription fee for unlimited battery swaps. Could that encourage overconsumption?
Peng: When I say energy efficiency… From the battery to the wheels, the energy loss [of a Gogoro Smartscooter] is only 21 percent, compared with a fuel-powered scooter at 83 percent, [some of which] is from energy-burning vibration… Or, think about how hot the exhaust pipe [of a traditional scooter] is! All of that is a waste of energy.
Of course, with Gogoro, people might want to make good use of its all-you-can-ride plan, but that'll only last for the first month. As your life returns to a normal pattern, you will consume energy how you usually consume it. So I don't think it will create more traffic. However, we'll make travel more fun. Each time you travel, you're actually saving energy, because we're four times more efficient [than traditional scooters].
TT: Does Gogoro deserve the name of Taiwan's "Tesla on two wheels"?
Peng: It's an easy way to describe a company that your friends do not know. Young people won't buy the energy network concept, because it's not sexy at all. However, they will buy cool products, because they bring fun to their lives. So we're using a very cool and sexy product to get young people on board. Once they subscribe to our business model and own a Gogoro Smartscooter, they become contributors to a green way of life.
TT: Among Taiwan's 13.5 million motorcyclists, what is your target clientele?
Peng: Even though we have an idea to change the world, it won't happen overnight. We'll be realistic. We aim to grab 30 percent of [existing] users today, who are tired of riding traditional scooters. Those who appreciate design and the value of technology will be the first wave of users of our technology. They will share the Gogoro experience — a greener, faster, sexier and smarter product, and a future vehicle with modern technology — with friends. All of these [features] packed together become a very good story.
Maybe today, the starting price of Gogoro will be higher, because we've put in the latest technology and premium materials to build it. However, one day, if more people use it, we will be able to build the next generation, which might help lower the price.
We are trying to reshape the industry and give it a different voice. It is not about whether it is feasible [to effect change], it is more about whether we want to do it or not. If today I changed all traditional scooters into electric scooters, the weather in Taipei would be much better tomorrow.
TT: So what will your pricing strategy be?
Peng: Our strategy is to make sure it's acceptable and affordable. Maybe you pay everything in one shot, but at a lower price, or you pay through a financing program. Or we use the energy to subsidize the scooter's price, like the subscription plan of an iPhone. Since we are selling energy and electric scooters together, we can play around with these figures.
A traditional scooter costs between US$2,000 and US$3,000. For those who are used to paying US$3,000, maybe I can find something else to make this vehicle more accessible to you. [Gogoro plans to release its pricing plan next month.]
TT: On top of performance and price, your swappable battery station — the GoStation — will be part of the deal. What is your plan?
Peng: In the initial stage, we will build one GoStation every 2km2 to 4km2, which would allow a rider to access the next station within 1.5km to 2km. We plan to start in downtown Taipei with a good density, especially at locations near the city's 11 bridges. After that, we would build more based on the number of riders, or an appropriate road to rack ratio, when we have a better idea of how energy is used among our riders.
The location of our stations can be flexible — they can be [near] convenience stores, supermarkets or next to gas stations. We have partners for our energy stations that include parking lots; CPC Corp, Taiwan (台灣中油); the Taipei City Government; and even coffee shops. The day we announce our prices, we will also make public the locations of our available stations.
A total of 230 [international] cities have approached and asked us [for a partnership]. However, we don't have the resources to go everywhere. Even with Taipei, it takes a great deal of effort, manpower and investment. To us, the most important thing is to make sure our first city, Taipei, is successful. Afterward there would be many possibilities to go to any city in the world.
TT: Who are the major players and talent behind Gogoro?
Peng: Our talent comes from so many different industries — mobile phones, information technology, cars and scooters, as well as luxury brands such as Louis Vuitton. We have many people who used to sell information technology products and consumer electronics. No matter which industry they are from, we all deal with the same group of clients who buy smartphones, cars and watches.
It's not about selling scooters, it's about whether you're passionate enough about changing the world. Gogoro does everything from design to manufacturing and retail to service by itself. So, it's tough and we need talent from all kinds of industries who see things from different perspectives, and big ideas are greatly encouraged.
And we have a crazy boss [Horace Luke], who encourages engineers to try and make mistakes. Every single day, he comes in with passion about doing the right thing and changing the world with a desirable product.
Comments will be moderated. Keep comments relevant to the article. Remarks containing abusive and obscene language, personal attacks of any kind or promotion will be removed and the user banned. Final decision will be at the discretion of the Taipei Times.