Ivory Coast launches first domestic chocolate factory
Ivory Coast, the world's largest cocoa producer, inaugurated its first industrial-scale chocolate factory on Monday, aiming to stimulate and support growing local consumption of the sweet treat.
Although the West African country has made cocoa its economic engine since it became independent from France in 1960, chocolate has not traditionally been part of national diets.
"We wanted to be able to ... make chocolate for Ivorians, for Africans and especially West Africans," Ivory Coast President Alassane Ouattara said after a tour of the new facilities in Abidjan.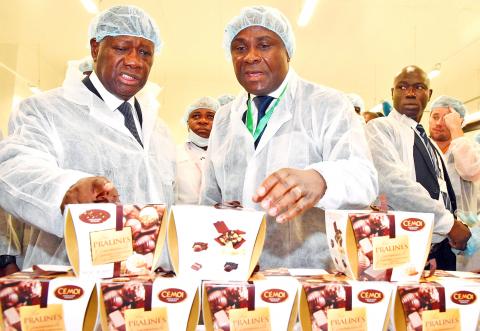 Ivory Coast President Alassane Outtara, left, asks a question to Cemoi Ivory Coast director-general Benjamin Bessie regarding the production of chocolate at the inauguration of French chocolate manufacturer Cemoi's factory in Abidjan, Ivory Coast, on Monday.
Photo: AFP
Ivory Coast, which produces more than 35 percent of global cocoa harvests and saw a record production of more than 1.7 million tonnes last year, wants to establish itself in other more lucrative sectors of the industry.
With an investment of 6 million euros (US$6.7 million) for a production capacity of 10,000 tonnes per year, the new factory is to produce chocolate "made in Ivory Coast" for the first time on an industrial scale.
"The arrival of a new chocolate factory in the world's largest cocoa producer ... will also allow Ivorian planters to finally access the pleasure of chocolate," said Patrick Poirrier, CEO of French chocolate company Cemoi, which owns the plant.
Cocoa, the "brown gold" for Ivory Coast, accounts for 22 percent of the country's GDP, more than half of its exports and two-thirds of people's jobs and incomes, according to the World Bank.
Minister of Commerce Jean-Louis Billon said Ivorians today had "more and more access to a product, which is local product, which is sold worldwide, but which used to be forbidden."
During the 2013-2014 season, Ivorian cocoa producers saw profits of 2.13 billion euros, according to Ivory Coast's coffee-cocoa council, while worldwide cocoa reaped about US$13 billion in profits.
However, those figures were dwarfed by the world's chocolate earnings, which were nearly 10 times greater that season, according to the International Cocoa Organization (ICCO).
Billon earlier this year said that the country was "interested in exporting finished and semi-finished products."
Ivory Coast is set to become the leader in cocoa bean processing, according to the ICCO.
Comments will be moderated. Keep comments relevant to the article. Remarks containing abusive and obscene language, personal attacks of any kind or promotion will be removed and the user banned. Final decision will be at the discretion of the Taipei Times.