Mongolia, Rio Tinto to expand giant mine
Anglo-Australian mining giant Rio Tinto PLC and Mongolia agreed to a multibillion-dollar expansion of a vast copper and gold mine, officials said yesterday, ending a two-year dispute as Ulan Bator seeks to restore its foreign investor appeal.
The deal on the underground second phase of the Oyu Tolgoi project, estimated to cost US$5.4 billion, comes with Mongolia looking to boost its flagging economic growth after foreign direct investment plummeted in three quarters last year.
"Mongolia is back to business," Mongolian Prime Minister Chimediin Saikhanbileg said, according to a statement released by Rio Tinto late on Monday.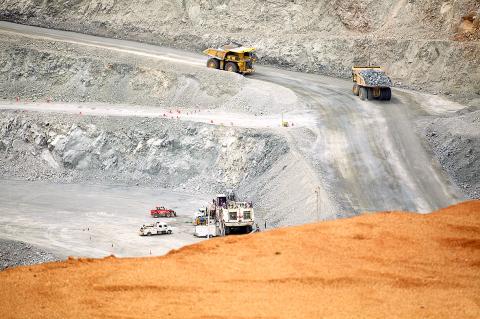 Dump trucks transport raw ore out of an open pit at the Oyu Tolgoi copper and gold mine in Khanbogd, Mongolia, on June 17 last year.
Photo: Bloomberg
"Unlocking Oyu Tolgoi's underground mine will have a significant impact on the Mongolian economy, which will benefit Mongolian citizens for generations to come," he added. "Our joint agreement clearly positions Mongolia as an attractive country for investment."
Mongolia's vast reserves of underground resources are estimated to be worth more than US$1 trillion and it enjoyed world-leading economic growth in recent years — peaking at 17.5 percent in 2011 — on the back of a minerals boom exemplified by Oyu Tolgoi.
However, efforts to extract the wealth have stumbled in the face of internal fighting over how much control and profit foreign companies should be allowed.
Oyu Tolgoi is a multibillion-dollar deposit, and when it is in full production it is expected to provide as much as one-third of Ulan Bator's annual revenues.
The government and Oyu Tolgoi's shareholders have been locked in negotiations since 2013 on the second phase of the mine, with Ulan Bator alleging unpaid taxes and looking to renegotiate the ownership terms.
Rio subsidiary Turquoise Hill Resources Ltd last year priced the underground expansion at US$5.4 billion. It would unlock 80 percent of Oyu Tolgoi's value.
The statement said the two sides agreed on a financing plan for the next phase, which "addresses the key outstanding shareholder issues and sets out an agreed basis for the funding of the project."
"This is an extremely positive development for Mongolia and all those involved with Oyu Tolgoi," Batsukh Galsan, chairman of the mine's operating company, Oyu Tolgoi LLC, said in a separate statement yesterday.
Turquoise Hill owns 66 percent of the firm, with the Mongolian government holding 34 percent.
Rio Tinto added it has already invested US$6 billion into the mine, with US$1.3 billion paid in "taxes, fees and other payments."
Last year, foreign direct investment into the landlocked country plummeted 74 percent, Mongolian central bank data showed, and economic growth dropped to 7.8 percent.
Despite the minerals boom, many citizens remain poor, and politicians in the country of 3 million have faced rising suspicion of foreign investors, along with concerns about environmental damage and how fairly mineral wealth is shared.
Comments will be moderated. Keep comments relevant to the article. Remarks containing abusive and obscene language, personal attacks of any kind or promotion will be removed and the user banned. Final decision will be at the discretion of the Taipei Times.