Ruble rally triggers 'mother of squeezes' as US money managers rush back in
The ruble's flip from worst to best currency is causing a stampede in the bond market as US money managers race back in.
At least half of the funds tracking JPMorgan Chase & Co's benchmark emerging-market local bond indices have been holding less than the recommended allocation, according to Citigroup Inc. Now they are playing catch-up after the ruble's 17 percent rally this year — the most of any currency worldwide — sending the government's OFZ bonds soaring 22 percent.
"It's been very painful; it's the mother of squeezes and I don't think we are finished yet," Luis Costa, a strategist at Citigroup in London, said in e-mailed comments on Friday. "For the first time in quarters and quarters, we're starting to see OFZ flows from US accounts. This is the buy signal."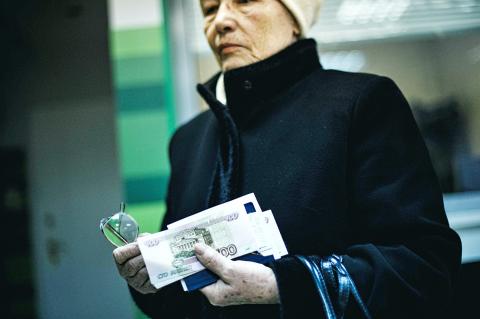 A woman holds her pension received in Russian ruble notes in the eastern Ukrainian city of Donetsk on April 1.
Photo: AFP
The money flowing in shows confidence that the ceasefire in Ukraine will prevent any further ratcheting of US-led sanctions against Russia. It is likely to send the ruble rallying as much as 16 percent to 45 per US dollar in the coming weeks, according Alfa Bank, the nation's second-largest private lender.
Not everyone is rushing back. Peter Wilson, a senior portfolio manager at Wells Fargo Asset Management in London, says Russia is an "unstable" investment.
Russia's ruble bonds are not "a reasonable investment in the current situation," Wilson said by e-mail on Friday. "While we benefited from no allocation last year as they fell, we're being penalized by the current bounce."
The central bank launched the rebound with a surprise 200 basis-point rate cut at the end of January, lowering its key rate to 15 percent. The Ukraine cease-fire deal in February stoked appetite further, while policymakers followed last month with a 100 basis-point rate reduction.
The regulator will continue cutting at its next policy meeting with a 200 basis-point decrease, according to Alfa Bank's Moscow-based chief economist Natalia Orlova.
"Expecting this step, investors should be in a rush to take exposure to Russian assets and we expect the ruble to stay strong in the coming weeks," she said in an e-mailed note on Friday. "Negatives will be disregarded by the market for the moment as 10 percent to 12 percent yields on sovereign bonds are too attractive given the negative return offered by developed markets and much lower yields on other emerging markets."
Funds holding Russian debt have seen uS$200 million of inflows this year, AO Gazprombank said, citing EPFR Global data. That compares with US$1.35 billion of outflows in the same period last year.
"The underweight in OFZs at the beginning of 2015 must have been very wide," Alexander Losev, chief executive officer of Sputnik Asset Management in Moscow, said in e-mailed comments. "The ruble was dropping like a brick for the whole of December, and even in January with oil at US$45 per barrel it was sheer madness to everyone to hold OFZ bonds."
The ruble strengthened 3.2 percent versus the US dollar to 51.9610 as of 10:37am yesterday. The currency pared its weekly advance on Friday after the central bank said it would increase the cost of borrowing foreign exchange to stem gains.
Comments will be moderated. Keep comments relevant to the article. Remarks containing abusive and obscene language, personal attacks of any kind or promotion will be removed and the user banned. Final decision will be at the discretion of the Taipei Times.