Fed divided over timing of interest-rate hike: minutes
STILL 'PATIENT'? FOMC members were split over whether to begin in June or wait until next year, and the committee is waiting until further improvement in the labor market
The US Federal Reserve was split at its last policy meeting on when to raise ultra-low US interest rates, with timing ranging from June to next year, according to minutes released on Wednesday.
The US dollar firmed yesterday in Asia trading as policymakers split over the timing of an interest-rate increase keeps chances of a June hike alive.
The greenback bought ¥120.28 in Tokyo afternoon trade, up from ¥120.14 in New York late on Wednesday.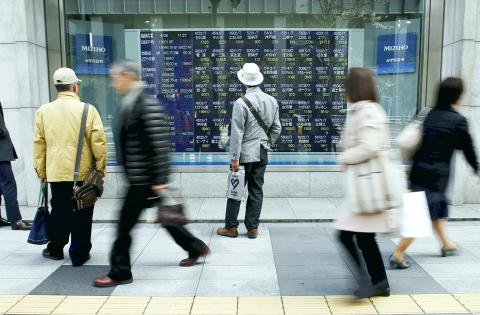 Pedestrians look at an electronic board showing various stock prices outside a brokerage in Tokyo yesterday.
Photo: Reuters
"Several participants judged that the economic data and outlook were likely to warrant beginning normalization at the June meeting," said the report on the March 17 and March 18 meeting of the Federal Open Market Committee (FOMC), the central bank's policy arm.
Given the fall in energy prices and the stronger dollar, the other FOMC participants deemed the economy would not be able to weather a hike until later in the year.
"A couple" said liftoff would remain unlikely until next year, the minutes said.
At the meeting, the Fed left its key federal funds rate unchanged near zero, where it has been pegged since late 2008 to support the recovery from the Great Recession.
It dropped from its policy statement a line used previously saying it will remain "patient" before acting — sending a signal that a rate hike could come as early as June.
However, the FOMC said it expected the timing would be appropriate when it had seen further improvement in the labor market and is "reasonably confident" that currently weak inflation will move back to its 2 percent target over the medium term.
The Fed has blamed tepid inflation on "transitory" factors, including the rapid dive in crude oil prices since June last year.
The latest data available on the Fed's preferred inflation measure, the "core" personal consumption expenditures price index, which excludes food and energy, showed a modest 1.4 percent increase in February from the previous year.
The participants discussed when it might be appropriate to begin to raise the interest rate, in the context of inflation likely to remain weak in the short term.
"The normalization process could be initiated prior to seeing increases in core price inflation or wage inflation," the minutes said. "Further improvement in the labor market, a stabilization of energy prices, and a leveling out of the foreign exchange value of the dollar were all seen as helpful in establishing confidence that inflation would turn up."
The participants said that economic growth had moderated since their January meeting, with slower consumer spending, a weaker housing market and the stronger US dollar hampering exports.
Comments will be moderated. Keep comments relevant to the article. Remarks containing abusive and obscene language, personal attacks of any kind or promotion will be removed and the user banned. Final decision will be at the discretion of the Taipei Times.