Sercomm expects boost from small-cell base stations
Telecom equipment maker Sercomm Corp (中磊) expects small-cell base stations to contribute a single-digit percentage to its revenue this year as more telecoms deploy the low-powered stations to better manage spectrum in the 4G era, a company executive said yesterday.
"Small cells can help telecoms extend their 4G coverage and help them manage fast-growing mobile traffic at efficient costs," chief executive James Wang (王煒) said. "As 4G subscriptions grow rapidly, it is foreseeable that a mobile traffic jam will occur as soon as next year."
Sercomm's new small cell, dubbed F200-GD, has gained approval from the National Communications Commission ahead of the government's planned auction of new 2,600-megahertz spectrum by the end of this year. The new bandwidth auction is expected to help local telecoms improve their 4G long-term-evolution (LTE) services.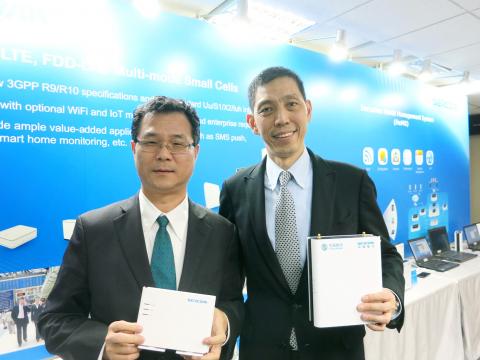 Sercomm Corp chief executive James Wang, left, and executive general manager Lin Bin hold up the company's small-cell base stations at an event in Taipei -yesterday.
Photo: Wang Yi-sung, Taipei Times
Sercomm said three local telecoms are testing the company's small cells in preparation for growing data traffic in macrocell networks.
In contrast to bulky macrocells widely used for wireless access outdoors, small cells are suitable for telecoms to deploy in-building wireless networks and to offload traffic from macrocell networks in urban or otherwise densely populated areas.
Fast-growing mobile data traffic would help stimulate adoption of small cells and help magnify those base stations' revenue contribution to Sercomm to a double-digit percentage next year, Wang said.
The company now supplies small cells to the world's biggest telecom, China Mobile Ltd (中國移動), which aims to boost its 4G users to 200 million this year.
Japan's Softbank Corp is expected to be the second operator using small cells to expand its 4G coverage, Sercomm said.
"We expect to see an explosive growth of small cells next year," Wang said.
Sercomm makes small cells supporting both 4G TDD-LTE and FDD-LTE technology. TDD-LTD technology is used by China Mobile, while FDD-LTD technology is used mostly in Taiwan.
The company expects that growing integration of TDD-LTD and FDD-LTE technologies in the supply chain — mostly base stations and mobile phones — would help boost small-cell demand.
Many smartphones, including HTC Corp's (宏達電) One M9, Huawei Technology Inc's (華為) P7 and Samsung Electronics Co's Galaxy 5S, support both technologies.
Sercomm reported record-high revenue of NT$2.36 billion (US$75.57 million) last month, up nearly 35 percent from NT$1.75 billion in the same period last year.
That brought the company's total revenue last quarter to rise 36 percent annually to NT$6.35 billion from NT$4.67 billion.
"With strong demand from the US, China and Japan, we expect a rosy growth [of revenue] this year," Wang said.
Yuanta Securities (元大證券) forecast Sercomm's revenue to expand to an all-time high this year to NT$27.56 billion, up 19 percent from NT$23.19 billion last year, given significant broadband infrastructure opportunities in the US and China.
The brokerage gave a "buy" rating on Sercomm, with a target price of NT$84, implying about 23 percent upside from the stock's closing price of NT$68.5 yesterday in Taipei trading.
Comments will be moderated. Keep comments relevant to the article. Remarks containing abusive and obscene language, personal attacks of any kind or promotion will be removed and the user banned. Final decision will be at the discretion of the Taipei Times.