TSMC prepping new chip process
Taiwan Semiconductor Manufacturing Co (TSMC, 台積電) is on target for the introduction of a new production technique as it tries to fend off competition for made-to-order semiconductors.
TSMC will offer 10-nanometer (nm) manufacturing as early as the end of next year, co-chief executive officer Mark Liu (劉德音) said on Tuesday at a company event in San Jose, California.
"Our goal is to enable your production by the end of 2016," Liu said at the event updating customers on the company's plans.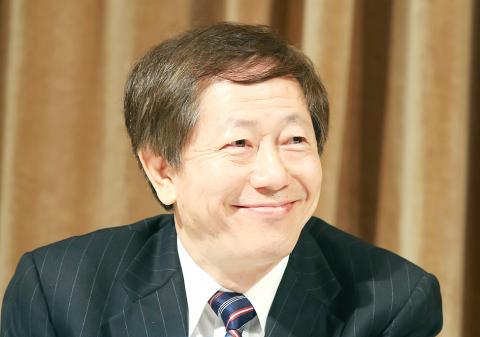 Taiwan Semiconductor Manufacturing Co co-chief executive officer and co-president Mark Liu attends an earnings briefing in Taipei on Jan. 16 last year.
Photo: Bloomberg
He said TSMC is spending to ensure it has enough capacity to meet its buyers' needs.
TSMC last year ended Samsung Electronics Co's seven-year monopoly on making processors for Apple Inc's iPhone and is in the middle of a battle with Samsung and Intel Corp to secure orders worth billions of US dollars from the world's biggest technology clients.
Samsung has grabbed back the business for the next iPhone chips, Bloomberg News reported last week, while long-time TSMC customer Qualcomm Inc is also placing orders with the South Korean company.
Shares of TSMC declined 2.1 percent to NT$143 at the close yesterday in Taipei trading.
The drop pared the stock's gains this year to 1.4 percent after a 34 percent climb last year.
Companies such as Apple and Qualcomm rely on outside producers to make the chips that they design. TSMC dominates that foundry business, manufacturing a large proportion of the world's smartphone and tablet chips. Samsung, Intel and others are trying to break into the business.
Advancing to small circuit line widths on semiconductors gives chipmakers the option to improve the performance or output of their products.
TSMC said its move to 10nm combined with its earlier 16nm technology would put it ahead of its competition.
TSMC said in January it expects to spend US$11.5 billion to US$12 billion on capital expenditures this year, 21 percent to 26 percent higher than last year's US$9.5 billion and ahead of the US$9.7 billion record of 2013.
The Hsinchu-based chipmaker is scheduled to release its sales results for last month tomorrow and is to report first-quarter earnings and provide its next forecast on Thursday next week.
Comments will be moderated. Keep comments relevant to the article. Remarks containing abusive and obscene language, personal attacks of any kind or promotion will be removed and the user banned. Final decision will be at the discretion of the Taipei Times.