Obama touts solar energy industry on visit to Utah
US President Barack Obama on Friday said the US economy is being buffeted by slowdowns overseas and made a pitch for his proposals on infrastructure, education and energy as the remedy to sustain growth.
Appearing before an array of solar panels at Hill Air Force Base in Utah, Obama said his administration is setting a goal of training 75,000 workers for the solar industry by 2020, with a special emphasis on military veterans.
"We have had the strongest economy, but we're impacted by what happens around the world," Obama said just hours after a US Department of Labor report showed US payrolls increased by 126,000 last month, the smallest monthly gain since December 2013.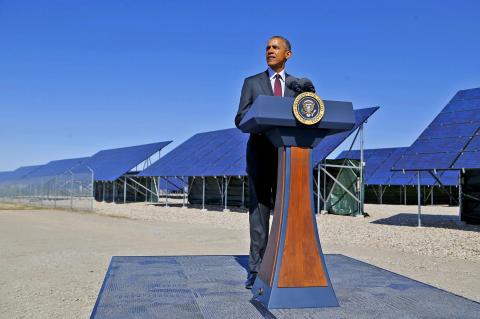 US President Barack Obama delivers a speech following a tour of a solar power array at Hill Air Force Base in Utah on Friday.
Photo: Reuters
US economic security can be assured by rebuilding and repairing the nation's transportation system and by spurring the growth of alternative energy sources, he said.
The solar industry is adding jobs 10 times faster than the rest of the economy, he said.
The solar initiative includes a plan to make funding from the GI Bill available for veterans pursuing solar workforce training.
A new "Solar Ready Vets" program is set to provide installation training for veterans at 10 military bases in the US, the White House said in a statement on Friday.
"It's going to train transitioning military personnel for careers in this growing industry," Obama said at Hill Air Force Base.
The initiative on solar energy is the latest in a series of unilateral actions Obama has taken to advance his clean energy agenda.
On Tuesday, Obama submitted to the UN a plan to slash greenhouse gases by more than a quarter over the next decade.
Republicans in the US Congress and in state legislatures have fought to block several of Obama's climate initiatives, saying they cost jobs by requiring cuts to carbon dioxide from coal-fired power plants.
Obama's trip to Utah is his latest stop in a tour across mostly Republican states to tout initiatives backed almost exclusively by Democrats.
In Louisville, Kentucky, Obama said Republicans were cutting funding for job training while proposing to eliminate the estate tax for wealthy Americans.
In the last month, he has traveled to Alabama to call for more regulations on payday lenders, pitched free community college in South Carolina and called for student loan relief in Georgia.
Comments will be moderated. Keep comments relevant to the article. Remarks containing abusive and obscene language, personal attacks of any kind or promotion will be removed and the user banned. Final decision will be at the discretion of the Taipei Times.