Facebook's Messenger app to mix business, pleasure
'OPENING THE FLOODGATES': Facebook is opening its Messenger to outside developers in an effort to diversify it to compete with other messaging apps
Facebook Inc's Messenger app is evolving into a multitasking tool equipped to send an animated fist bump to a friend at one moment and then get a little business done in the next.
In an effort to pull off the transformation, Facebook is opening Messenger so outside programmers can build features tailored for the service. By the end of next month, Messenger will also be adding the ability to display store receipts and shipping information to help consumers keep track of their interactions with merchants and other businesses.
The push to diversify Messenger came as younger people are increasingly using a wide range of mobile messaging apps to communicate, while spending less time broadcasting their activities on Facebook's more expansive social network. The list of apps pulling people away from Facebook includes Snapchat, KakaoTalk, Kik, Line, Secret, Tango, Viber and Whisper.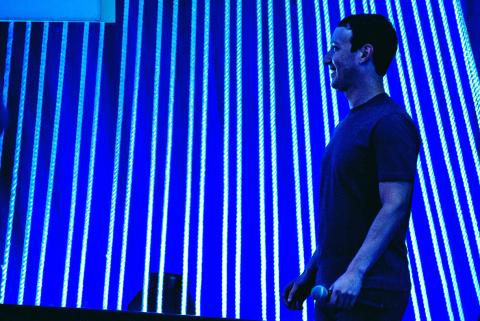 Facebook chief executive officer Mark Zuckerberg watches a presentation during the Facebook F8 Developers Conference in San Francisco, California, on Wednesday.
Photo: Bloomberg
Facebook CEO Mark Zuckerberg touted the Messenger expansion on Wednesday to about 2,000 app developers at the opening of a two-day conference in San Francisco.
"We have been building Messenger into a service to express beyond text," Zuckerberg said.
Zuckerberg promised that even more features will be rolling out in the months ahead.
Thanks largely to its Facebook ties, Messenger already has more than 600 million users, Zuckerberg said.
Facebook's social network is more than twice as large, with about 1.4 billion users.
The social network remains the foundation for one of the Internet's most successful businesses. Facebook's revenue last year surged 58 percent to US$12.5 billion, a performance that has enabled the company's stock price to more than double from its initial public offering price of US$38 in 2012. The growing popularity of mobile messaging, though, could result in less time spent on social networks, a shift that would give Facebook fewer opportunities to learn about its users' interests and show the digital ads that make most of the company's money.
That threat is propelling Messenger's expansion and also prompted Zuckerberg to spend US$22 billion last year to buy WhatsApp, another mobile messaging service that has more than 700 million users.
A large segment of WhatsApp's audience is located in less affluent countries outside the US and western Europe, making it more likely that it will not be adding as many new tools as Messenger has, said David Marcus, who oversees Facebook's messaging products.
Most Messenger apps are installed on iPhones and top-of-the-line Android phones, which provide the processing power needed to handle a range of multipurpose tools.
Analysts widely expect Facebook to begin showing ads with Messenger as people spend more time in the app to do different things, though the company has not revealed plans to turn the app into a marketing vehicle.
The decision to allow outside applications to operate within Messenger mirrors a pivotal decision that Zuckerberg made eight years ago when he opened Facebook to other programmers. That move transformed Facebook into an even more influential, multipurpose hub for doing everything from playing games to buying gifts.
Marcus, who formerly ran PayPal, is hoping Messenger will follow a similar pattern now that it is operating as an open platform.
"We have opened the floodgates," he said.
Facebook is counting on apps from other developers to enable Messenger users to express their feelings with GIFs, audio clips and other dynamic formats that "will bring a smile to people's faces," Marcus said.
In his presentation, Zuckerberg predicted messaging apps eventually will include virtual-reality technology, something that Facebook acquired last year when it bought Oculus VR Inc for US$2 billion.
Comments will be moderated. Keep comments relevant to the article. Remarks containing abusive and obscene language, personal attacks of any kind or promotion will be removed and the user banned. Final decision will be at the discretion of the Taipei Times.