CPC, Formosa trim gasoline and diesel prices as crude falls
State-run oil refiner CPC Corp, Taiwan (CPC, 台灣中油) yesterday said it would cut gasoline and diesel prices by NT$0.8 and NT$0.9 per liter respectively beginning today, to reflect last week's fall in global crude oil prices.
CPC said oil prices plummeted before the US Federal Reserve ended a monetary policy committee meeting on Wednesday. The increase in Libyan oil production also depressed international crude prices last week, the company said.
According to CPC's weighed oil pricing formula, prices dropped to US$51.9 per barrel, down 6.63 percent, or US$3.69, compared with the previous week's US$55.59 per barrel, CPC said.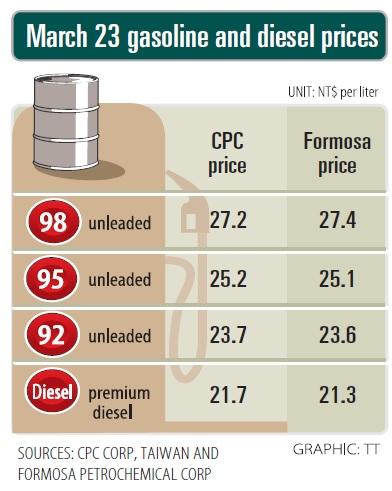 After the New Taiwan dollar's appreciation of NT$0.01 against the US dollar, which helped lower CPC's import costs, mean domestic fuel prices should decline 5.33 percent this week, CPC said.
Formosa Petrochemical Corp (台塑石化), the nation's only private oil refiner, on Saturday announced that it would also lower wholesale prices of gasoline and diesel by NT$0.8 and NT$0.9 per liter respectively effective from yesterday.
CPC's wholesale oil prices will still be higher than those of Formosa Petrochemical's products, except for its 98-octane unleaded gasoline, which is is NT$0.2 per liter cheaper than Formosa's.
Comments will be moderated. Keep comments relevant to the article. Remarks containing abusive and obscene language, personal attacks of any kind or promotion will be removed and the user banned. Final decision will be at the discretion of the Taipei Times.