Uncanny 'Nikkei' accuracy riles foreign investors
Every morning, Japan's most influential business daily, the Nikkei, supplies its 3 million readers with a host of market-moving news — from earnings to acquisitions — with crystal-ball-like accuracy.
Stocks rise and fall on the Nikkei's reports about Japan Inc, which are treated like gospel when trading on the world's second-biggest equities market.
However, the consistently on-the-mark news has riled overseas investors, who say it gives their Japanese counterparts an unfair home advantage being many time zones ahead, and sparked calls for changes in legislation to provide a level playing field.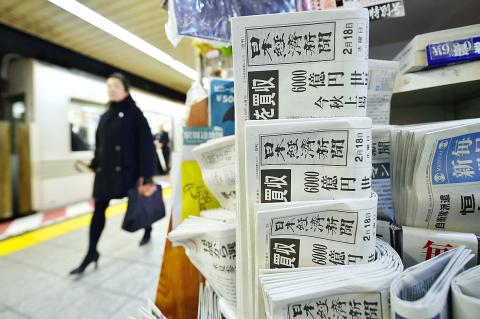 Copies of Japan's most influential daily business newspaper, the Nikkei (or Nihon Keizai Shimbun), are displayed at a subway station in Tokyo on Wednesday.
Photo: AFP
When the Nikkei's unsourced reports say Toyota Motor Corp is going to triple production of fuel-cell cars, Sony Corp will cut 1,000 jobs or that Skymark Airlines is going bust, investors pounce on the news as though it came from the companies themselves.
And weeks before firms report their quarterly financial results, the Nikkei rolls out figures that are so accurate they often beat analysts' forecasts. A predictable pattern follows: companies deny supplying the information or reject it outright, and say "it's not something we've announced," only to confirm it days, weeks or months later.
Skeptics are convinced it could only be insiders providing such accurate information, a practice that is far more rare in other major markets such as New York or London.
An earlier analysis by Bloomberg News, which competes with the Nikkei, found that of 45 articles analyzed that contained profit figures that preceded the formal release of results, 37 gave a number that was within 10 percent of the company's result, or predicted a range that turned out to be correct.
They beat analysts' estimates in 61 percent of cases.
"If the articles are wrong, investors are surprised and wonder why, but they don't doubt the stories in general," Myojo Asset Management chief executive officer Makoto Kikuchi said. "When they're wrong, it may be because the information from the company is old, or the person leaking it didn't have all the info."
In response to questions about the Nikkei's astonishing accuracy, the paper told AFP that "we don't reveal how we investigate stories."
For its part, the Tokyo Stock Exchange says it is powerless to do anything unless there is proof of insider trading.
"All we can do is to ask companies to make [information] public as soon as possible," a bourse spokesman said.
Other media are left bemused about where the Nikkei got its information while US and European investors complain it leaves them out in the cold, unable to immediately access the Japanese-language breaking news — despite more than half of Tokyo's trading being done by foreigners.
"But nobody here seems to think it's a bad thing," says Nicholas Smith, a Japan strategist for brokerage CLSA, who calls the Nikkei reports a "pervasive and perennial problem."
He said the practice was not likely to disappear, even as it does little to bolster the case for investing in Japanese firms.
"The [regulators] should strengthen the legislation around fair disclosure and it has to be rigorously enforced," he said. "Japan has never managed to create a market culture — and there is still a lot of suspicion about how [the market] functions."
Rules about firms disseminating information as widely as possible only date from 1999 in Japan, and a former chief of a large firm said companies sometimes confirm information collected by an army of Nikkei reporters, who hold regular meetings with company executives.
"This is THE newspaper of record so giving the information isn't considered a leak," he said.
The practice remains in place despite Japanese Prime Minister Shinzo Abe's attempts to lure more foreign investors as part of a wider bid to kickstart Japan's long-tepid economy.
Among the measures is a pledge to shake up the country's governance standards, including mandating that more independent directors sit on companies' boards.
Comments will be moderated. Keep comments relevant to the article. Remarks containing abusive and obscene language, personal attacks of any kind or promotion will be removed and the user banned. Final decision will be at the discretion of the Taipei Times.