Starbucks' choice of CEO highlights move into tech
Starbucks Corp named former Juniper Networks Inc chief executive officer Kevin Johnson as its next chief operating officer, underscoring the role technology now plays at the company.
Johnson, 54, is to take over on March 1 from Troy Alstead, who is leaving the company for an unpaid sabbatical announced earlier this month. Johnson, who has been a Starbucks director since 2009, is to remain on the board, but cease membership on all committees, the Seattle-based company said on Thursday.
The move brings Starbucks a seasoned technology executive at a time when reaching customers through their mobile phones is an integral part of its strategy. Starbucks chief executive officer Howard Schultz said on Thursday that about 16 percent of Starbucks' US store transactions now come from mobile devices. The Starbucks app, which lets customers pay and earn rewards points by scanning their smartphones, has more than 13 million active users.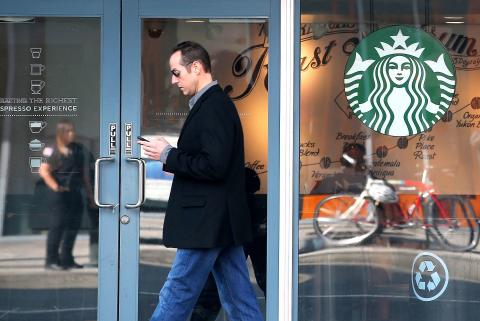 A pedestrian walks by a Starbucks Coffee shop on January 22, 2015 in San Francisco, California. Starbucks will report first quarter earnings January 22, after the close of the trading day.
Photo: AFP
"The choice speaks to Schultz's conviction that mobile and digital platforms will drive the company's future growth," Motley Fool analyst Asit Sharma said. "Johnson brings deep technology and supply-chain expertise to Starbucks' C-level."
Starbucks shares gained 6.6 percent to close at US$88.22 in New York on Friday, lifted by strong quarterly results released on Thursday. Just before announcing the Johnson move, Starbucks posted an 82 percent surge in profit in the first quarter after new food items and holiday-themed drinks fueled sales.
Friday's stock gain was the biggest one-day jump since July 2013, and pushed Starbucks to the highest point since it started trading in 1992. The shares rose 4.7 percent last year, the sixth straight year of gains.
Johnson is taking over from an executive who began managing day-to-day operations last year. Alstead, a 23-year veteran of the coffee chain, had been widely cited as a potential chief executive officer successor.
Schultz said during a conference call on Thursday that he had been talking to Johnson for some time, independent of Alstead's decision to take a sabbatical. He also played down the idea that the move was part of a chief executive officer succession plan.
"My personal commitment to Starbucks has never been greater, and I also want to make it clear that Kevin's addition is not part of some unannounced succession arrangement," Schultz said.
Johnson led Juniper, a Sunnyvale, California-based maker of networking gear, from 2008 to 2013. He previously worked at Microsoft Corp, which he joined in 1992. Johnson rose to become president of its flagship Windows business, as well as its struggling online services division.
He also championed Microsoft's unsuccessful bid to buy Yahoo Inc in 2008, an attempt to create a strong No. 2 in the Internet search business to rival Google Inc.
Johnson left Microsoft after the Yahoo deal collapsed to become chief executive officer of Juniper, the second-largest maker of routers used by telephone companies.
Known as a strong sales and marketing executive, he improved the company's execution, but failed to make it a top provider of networking gear to corporate buyers.
Starbucks has become a leader in payment technology. The company introduced mobile ordering last month at cafes in Portland, Oregon, and plans to roll out the service nationwide this year.
The company expects to offer delivery in select markets in the second half of this year in a plan that Schultz has called "e-commerce on steroids."
Comments will be moderated. Keep comments relevant to the article. Remarks containing abusive and obscene language, personal attacks of any kind or promotion will be removed and the user banned. Final decision will be at the discretion of the Taipei Times.