S Korean regulator accuses Uber of criminal violations
South Korea yesterday stepped up its legal battle against Uber Technologies Inc, with its telecom watchdog reporting the Web-based taxi firm to prosecutors for violating communications rules.
The move came a month after prosecutors indicted Uber's US founder and CEO Travis Kalanick and its South Korean partner, MK Korea, for operating an illegal cab service.
The Korea Communications Commission ruled that Uber Korea had failed to report its business and receive official permission before providing its location tracking services.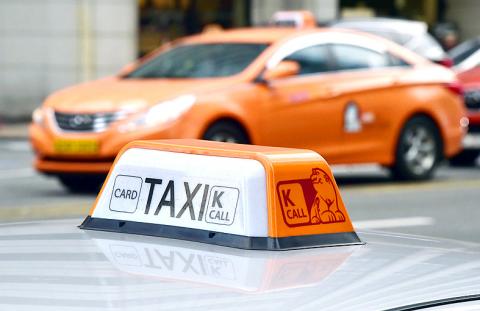 Taxis yesterday wait on a road in downtown Seoul.
Photo: AFP
"The commission decided to refer Uber to prosecutors because it has no legal status," a commission official said.
Uber started its service in Seoul in 2013, sparking protests from South Korean taxi drivers.
The Seoul city government has filed separate complaints with prosecutors, saying Uber's operations raise passenger safety issues and threaten the livelihoods of licensed cabbies.
City regulators have launched a crackdown on drivers that cooperate with Uber, with a 1 million won (US$921.70) reward offered for those who report cars offering rides through the Uber service.
Uber is the most prominent of several smartphone apps that are shaking up the traditional taxi landscape in cities around the world. However, it faces criticism and significant resistance from regulators in several countries, which accuse it of unfair competition and a lack of standards.
Separately, Uber raised US$1.6 billion in convertible debt from Goldman Sachs Group's wealth management clients, people with knowledge of the matter said.
Uber is also still in talks to raise US$600 million from hedge funds and international strategic investors to add to US$1.2 billion in financing that it raised last month, said the people, who asked not to be identified because the information is not public.
The funding last month valued Uber at US$40 billion, one of the highest valuations for a closely held technology startup.
The car-booking company plans to use the new money to roll out its service in more cities internationally and to invest in research and development and improving safety, the people said.
Representatives at Uber and Goldman declined to comment.
Additional reporting by Bloomberg
Comments will be moderated. Keep comments relevant to the article. Remarks containing abusive and obscene language, personal attacks of any kind or promotion will be removed and the user banned. Final decision will be at the discretion of the Taipei Times.