HTC eyes 100 retail shops this year, RE camera lift
Smartphone maker HTC Corp (宏達電) plans to increase its domestic directly owned retail stores from 72 to 100 this year to further boost local retail sales, a company executive said yesterday.
"The company reported impressive sales performance in the past quarter, partly driven by growing revenues from directly owned stores in the time period," HTC North Asia president Jack Tong (董俊良) said on the sidelines of a photography competition event at its flagship store in Greater Taichung.
Sales contribution from the firm's direct stores grew in the past quarter after the addition of premium services in September last year — including afternoon tea parties and outdoor music concerts for VIP members, Tong said.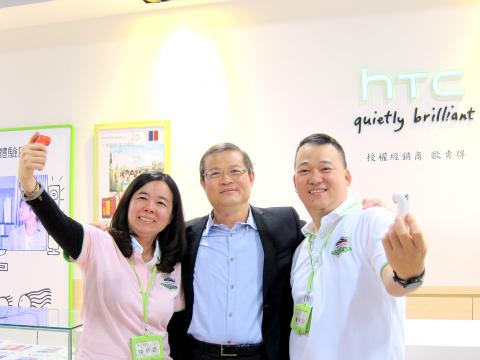 HTC Corp exclusive vendors pose with RE cameras at a news conference in Taipei yesterday. The company aims to double its dealership business and sell from 350,000 to 400,000 RE cameras this year.
Photo: Wang I-hung, Taipei Times
"The VIP services really improved our brand image among consumers in Taiwan," Tong said, adding that revenues generated from such stores doubled last quarter from the previous quarter.
"Our vision for this year is to expand our brand's reach to everywhere, and increasing the direct store numbers will certainly help," Tong said.
The firm has teamed up with 19 local distributors who run a total of 72 stores that sell only HTC products. This year, the number of such stores will reach 100, with total sales doubling from last year, he said, without giving exact figures.
Tong said the company's guidance for this quarter remains on track, reiterating that the sales from its home market will post double-digit growth this quarter from a year earlier, driven by HTC's full range of smartphones and revenues from direct stores.
HTC will soon launch a high-end 4G smartphone with a 5.5-inch screen and a less expensive smartphone priced at less than NT$5,000 in a bid to gain market share at home this year, Tong said.
He said the market for high-end, large-screened smartphones priced at more than NT$20,000 is led mainly by Apple Inc and Samsung Electronics Co, but added that HTC will not be absent from that segment this year.
Separately, Tong said HTC is upbeat about local sales of its first action camera, Re, amid the rising trend of the "Internet of Things," saying HTC expects to sell 350,000 units domestically this year.
Comments will be moderated. Keep comments relevant to the article. Remarks containing abusive and obscene language, personal attacks of any kind or promotion will be removed and the user banned. Final decision will be at the discretion of the Taipei Times.