Chocolate shortage spurs revival of cocoa in Amazon
With chocolate prices surging, a former Credit Suisse Group AG banker wants to help revive cocoa farming in the Amazon basin, where the beans are thought to have evolved about 15,000 years ago.
His campaign, located in Peru, is part of a Latin American push to gain more control of an industry now dominated by West African farmers who provide 70 percent of the market. The effort comes as drought, disease and government price controls have cut into the ability of Africa's suppliers to meet demand, boosting prices by 7.4 percent last year.
Enter Latin America, where academics believe cocoa originated. At one time, the confection was known by the Aztecs as the drink of the gods, and eventually it was introduced into Europe by Spanish conquistadors. Now, the former banker, Dennis Melka, is joining a push by Brazil, Ecuador and Colombia to return a legacy product to its roots.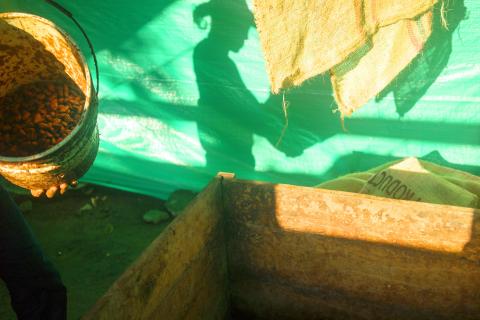 A worker prepares to pour harvested cocoa seeds into a bin for fermentation at the Perico Aguado cocoa plantation in Guajira, Colombia, on Sept. 24 last year.
Photo: Bloomberg
"The market is growing faster than Africa's ability to supply it," said Melka, chief executive officer and founder of Cayman Islands-based United Cacao Ltd. "It's an incredible window of opportunity to supply and change the confectionery industry."
Melka, who left Credit Suisse in 2005, was a director for the firm's emerging markets coverage focusing on Southeast Asia. He founded Asian Plantations Ltd, which cultivates palm oil in Malaysia, and later began growing palm and other tropical crops in South America, where land is less expensive.
Temperamental Crop
In November, he sold Asian Plantations in a deal valued at £188 million (US$286 million), according to data compiled by Bloomberg. The following month, United Cacao raised US$10 million in an initial public offering in London, and the stock has since gained 35 percent.
Cocoa is a temperamental crop and can only grow within about 10 degrees of the equator. With land readily available in the South American jungle and ideal conditions, Melka said the Amazon region is emerging as a key supplier for chocolate producers.
United Cacao expects the first harvest from its 3,250-hectare site in northern Peru in the second half of this year. It is on track to have 1,000 hectares planted this quarter and double that by the end of the year. When the entire area is planted by the end of next year, it may be the "largest and lowest-cost corporate cacao producer," according to a filing with the London Stock Exchange.
Cocoa prices have been rising since 2011 and now stand at about US$2,900 a tonne.
"We're rushing to plant because it's an incredible price," Melka said. "The Silicon Valley of the cacao industry is not in Asia or Africa, but in the Ecuadoran and Peruvian Amazonian belt."
Melka is seeking to grab share from West African producers, where cocoa is grown mainly by small-scale farmers and sold to confectioners by large-scale grinders Cargill Inc, Switzerland's Barry Callebaut AG and Olam International Ltd.
As global demand climbs, led in part by changing consumer taste in Asia, the International Cocoa Organization predicts a shortfall of 100,000 tonnes in the current growing year. The candy maker Mars Inc anticipates a 1 million tonne shortage in 2020.
Last year, Ecuador displaced Cameroon to join the world's five largest cocoa exporters after producing a record 240,000 tonnes last year, according to Ecuador's cocoa exporters' association, known as Anecacao.
Favorable pricing is encouraging more planting in Ecuador, with US, Chinese and Japanese groups among those planning investments, Anecacao president Ivan Ontaneda said by telephone from Guayaquil. The association on Wednesday raised its forecast for this year to 280,000 tonnes from 260,000 tonnes in October.
In neighboring Colombia, growers plan to take annual output from about 50,000 tonnes to 1 million tonnes over the next two decades, according to the National Cocoa Growers Federation.
Ivory Coast and Ghana produce more than 60 percent of the beans in the US$110 billion global cocoa market. Indonesia and Nigeria make up the top five.
On the ICE Futures US exchange, cocoa for March climbed to US$2,993 a tonne from US$2,915 this week, as hot, dry winds in Ghana dimmed the harvest outlook.
Brazil's M. Libanio Agricola SA, a cocoa farmer and processor since 1920, is planning to triple output over nine farms with 627,000 hectares in Bahia State, associate director Eimar Sampaio Rosa said.
Witches' Broom
Bahia was once the world's second-largest export region, and farmers are still recovering from an outbreak of witches' broom disease that ravaged crops in the 1990s and a long spell of low prices, said Rosa, whose company supplies Nestle SA and France's Bonnat Chocolatier.
"Debt levels are still very high among cocoa producers after all the problems they faced," Rosa said. "Brazil could substantially increase its output levels and maybe become an exporter in 15 years if farmers had access to credit."
Companies like Cargill and Barry Callebaut will continue to focus on West Africa and are helping Ivory Coast and Ghana farmers boost yields to encourage them to keep planting the crop, Victoria Crandall, an Abidjan, Ivory Coast-based commodities analyst at Ecobank said in a phone interview.
The governments of Ghana and the Ivory Coast are boosting farm-gate prices to farmers to encourage more planting and curb moves by some growers to other crops such as palm.
"Demand for chocolate is only going to increase, especially in Asia," Crandall said. "In the medium to long-term it's a very bullish market."
Comments will be moderated. Keep comments relevant to the article. Remarks containing abusive and obscene language, personal attacks of any kind or promotion will be removed and the user banned. Final decision will be at the discretion of the Taipei Times.