Taiwan caught in US-China solar spat
ANTIDUMPING: Malaysia is expected to come out on top after US trade regulators closed a loophole in how they levy import duties on Chinese-made solar panels
The US Department of Commerce began closing a chapter in a protracted trade conflict with China over solar equipment on Tuesday, approving a collection of steep tariffs on imports from Taiwan and China.
The decision, which is intended to close a loophole that had allowed Chinese manufacturers to avoid tariffs imposed in an earlier ruling by using cells — a major module component — made in Taiwan, found that the companies were selling products below the cost of manufacture and that the Chinese companies were benefiting from unfair subsidies from Beijing.
The department announced antidumping duties of 26.71 percent to 78.42 percent on imports of most solar panels made in China, and rates of 11.45 percent to 27.55 percent on imports of solar cells made in Taiwan.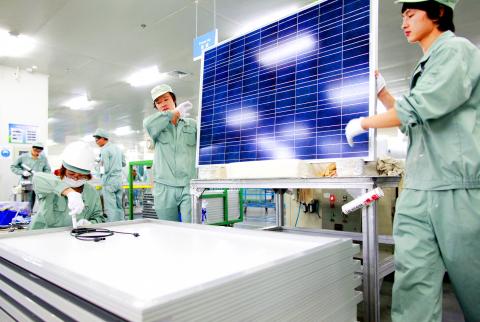 Employees assemble solar photovoltaic panels at Suntech Power Holdings Co's factory in Wuxi, Jiangsu Province, China, yesterday.
Photo: Bloomberg
In addition, the department announced anti-subsidy duties of 27.64 percent to 49.79 percent for Chinese modules.
"These remedies come just in time to enable the domestic industry to return to conditions of fair trade," SolarWorld Americas president Mukesh Dulani said. "The tariffs and scope set the stage for companies to create new jobs and build or expand factories on US soil."
OPPOSING VIEWS
However, others in the solar industry were quick to criticize the ruling.
"Taxing solar trade undermines both the spirit and efficacy of pledges made by the US and China to work together in the battle against global warming," Coalition for Affordable Solar Energy president Jigar Shah said in a statement. "These unnecessary taxes inhibit competition and put upward pressure on solar panel prices needed by US homeowners, installers and utilities."
The conflict has its roots in a flood of inexpensive Chinese solar products that pushed many US manufacturers out of business, but proved a boon to developers and installers who could offer their services at greatly reduced prices.
Some leading solar industry executives and advocates say that the low prices have helped spur wider adoption of solar energy in the US, creating thousands of customers and jobs.
Others say that the expansion has come at too high a cost in employment on the manufacturing side.
US INDUSTRY
SolarWorld, the US' largest solar manufacturer, has had a string of victories since it filed a complaint in 2011. In 2012, the US commerce department began imposing tariffs on Chinese imports.
This year, in preliminary decisions in a second case, the department expanded the scope of the ruling to include imports from Taiwan, leading to tariffs of about 19 to 55 percent.
The most recent decision makes that ruling final, but trade officials could not immediately say what the total tariff margins would be, because there is some overlap between the antidumping and subsidy rates, while an appeal process is not due to end until next month.
The primary beneficiary of the ruling is expected to be Malaysia, the second-largest exporter of solar panels to the US market, following China and narrowly ahead of Taiwanese manufacturers.
Western, Japanese and South Korean companies are pouring investment money into extensive operations in Malaysia.
Analysts say the manufacturers see the Asian nation as having a stable government with a fairly low-cost — yet highly skilled — labor force, that is free of China's persistent trade frictions with the West.
Comments will be moderated. Keep comments relevant to the article. Remarks containing abusive and obscene language, personal attacks of any kind or promotion will be removed and the user banned. Final decision will be at the discretion of the Taipei Times.