Icash announces deal with eight firms
SMART MOVE: The smart card company said it plans to form 22 more partnerships by the end of next year, to capitalize on its investment in card-reading machines
Smart card issuer Icash Corp (愛金卡) yesterday announced strategic partnerships with eight companies, including cosmetics retailer Cosmed (康是美) and hypermarket Carrefour, in a bid to expand the use of its new stored-value card.
The subsidiary of Uni-President Group's (統一集團) President Chain Store Corp (統一超商) said it aims to issue a total of 3 million second-generation iCash cards by the end of next year. The company has issued more than 300,000 second-generation iCash cards since they were launched in October.
Icash president Chang Chia-hua (張家華) said that most iCash users store between NT$300 (US$9.6) and NT$400 on their cards, adding that since the contactless iCash 2.0 service was launched, the number of people storing NT$1,000 or more on the smart cards has doubled.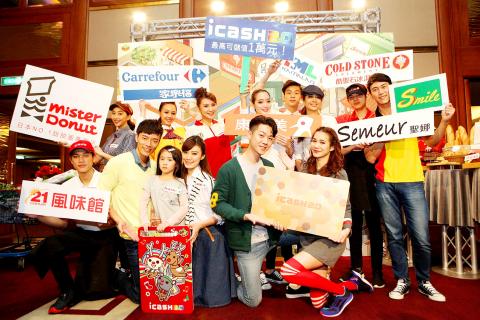 People yesterday hold up signs in Taipei of the eight major brands Uni-President Group announced would be cooperating with its iCash pre-payment card.
Photo: Yang Ya-min, Taipei Times
Chang said that besides fast food chains, restaurants and gas stations, the company is also seeking partnerships with transportation services and banks.
"We will tender an application to the Financial Supervisory Commission this month to expand iCash use to the Taipei Metro next year," Chang said, adding that Kaohsiung Rapid Transit Corp (高雄捷運) and Taipei's bicycle sharing system YouBike are also being considered for partnerships.
Icash general manager Winnie Liang (梁玉璘) said that the company is likely to issue co-branded iCash credit cards with eight to 10 domestic banks after the Lunar New Year holiday in February.
"Our strategy is to form 22 more partnerships with 6,000 stores in various sectors by the end of next year in a bid to win electronic ticket market share," Liang said, adding that the company has spent NT$200 million on building and setting up card-reading machines this year.
Liang said President Starbucks Coffee Corp (統一星巴克) was not included in the first wave of its partnership announcements because the company is still setting up a system for second-generation iCash cards.
According to the Financial Supervisory Commission, Taiwan has three companies that specialize in electronic payments — Icash, Easycard Corp (悠遊卡) and iPass Corp (一卡通票證).
As of October, 56.72 million electronic payment cards and tickets had been issued, with monthly consumption using the cards totaling more than NT$4.8 billion, commission data showed.
Easycard has the largest market share, with more than 50 million electronic payment cards issued so far, while Icash has issued 12 million cards, the data showed.
Comments will be moderated. Keep comments relevant to the article. Remarks containing abusive and obscene language, personal attacks of any kind or promotion will be removed and the user banned. Final decision will be at the discretion of the Taipei Times.