China could cut growth targets, boost stimulus
AIMING LOW: Economists said they expected the government to lower next year's economic targets for GDP growth to 7 percent — the lowest level since 2004
China is poised to cut its growth target for the first time in three years and ramp up stimulus as the economy comes under increasing downward pressure, analysts say ahead of a key policymakers' conference expected this week.
Chinese President Xi Jinping (習近平) and other top leaders are trying to put China's increasingly affluent consumers at the center of the world's second-largest economy, rather than investment and exports, and are ready to tolerate slower expansion in GDP to achieve more sustainable growth.
How much lower is the question, with China's economy assailed on multiple fronts including a deflating property bubble, high debt levels and the threat of deflation hovering in the background.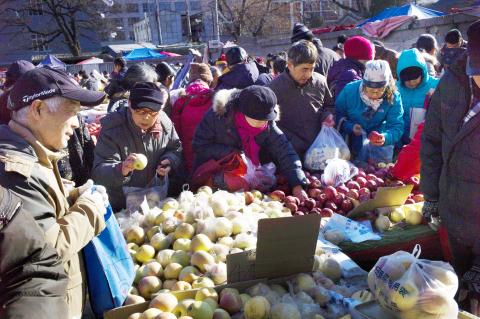 Residents select apples at an outdoor market in Beijing, China, on Friday.
Photo: AFP
Economists are likely to be looking for clues in next year's GDP growth target, which might be decided at the annual Central Economic Work Conference.
The gathering is expected this week, although its conclusions are unlikely to be unveiled until March.
Separately, main monthly economic statistics are due this week, with analysts expecting weakening industrial production growth and chronically low inflation.
The closely watched economic conference brings together key officials to decide policy for the coming year, with topics expected to include monetary policy, the consumer price index (CPI) target and further economic reforms.
"We expect the government to lower its 2015 economic targets for GDP growth to 7 percent from 7.5 percent in 2014 and CPI inflation to 3 percent from 3.5 percent," Nomura economists wrote.
"We believe the government will need to ease policy further — even to meet a lower GDP growth target — due mainly to strong headwinds from the property market correction, severe overcapacity in upstream industries and high local government debt," the economists said.
China last lowered the target in 2012 to 7.5 percent from 8 percent, and a drop to 7 percent would be the lowest since 2004.
Slowing growth this year prompted the central bank to carry out a surprise interest rate cut last month, reducing benchmark borrowing costs for the first time in more than two years.
The cut showed that top leaders "are certainly worried to a certain point" about the economy, Bank of America Merrill Lynch economist Lu Ting (陸挺) said.
They are likely to take a similar step during the first half of next year, he added, while also reducing the amount of cash banks must keep on their books — the reserve requirement ratio — to free up money for lending.
The Chinese Communist Party's politburo gathered on Friday ahead of the economic conference, with Xinhua news agency citing a statement that next year, the government plans to "keep the economy operating within a reasonable range."
It gave no details on precise measures that might be taken.
Australia and New Zealand Banking Group economist Liu Li-gang (劉利剛) said that authorities need to push broader reforms beyond tweaks to monetary policy.
"China should allow rapid development of its capital markets in the future to replace banks as the pillar of the financial system," he said. "Or else it's very likely that a credit contraction-led economic slowdown will emerge."
Comments will be moderated. Keep comments relevant to the article. Remarks containing abusive and obscene language, personal attacks of any kind or promotion will be removed and the user banned. Final decision will be at the discretion of the Taipei Times.