Ministers reticent about plans as Cabinet resigns
Minister of Economic Affairs Woody Duh (杜紫軍) and National Development Council Minister Kuan Chung-ming (管中閔) yesterday said that they have no intentions of trying to keep their posts amid a Cabinet reorganization following the Chinese Nationalist Party's (KMT) drubbing in the nine-in-one elections.
Duh's comments came amid his expressed frustration at the prolonged legislative suspension of major economics drafts, including a cross-strait trade in goods agreement. He took office on Aug. 10.
In its latest efforts to push for a trade in goods deal with China, the ministry is set to hold talks with Beijing on the pact on Friday next week in China. Representatives are expected to discuss potential tariff reductions on flat panels, machine tools and petrochemical products from Taiwan.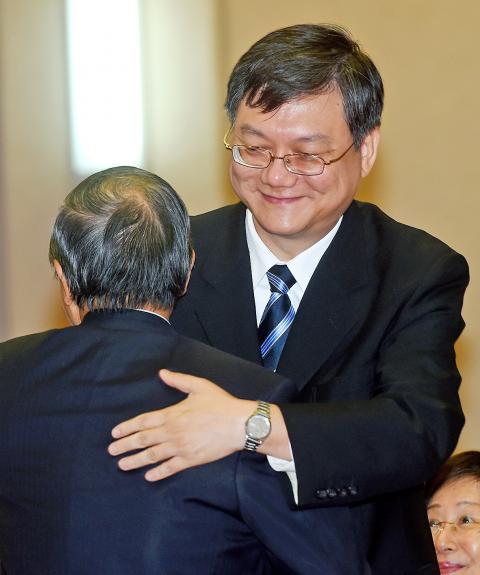 Minister of Economic Affairs Woody Duh, right, greets Atomic Energy Council Minister Tsai Chuen-horng yesterday in Taipei after Premier Jiang Yi-huah led the entire Cabinet in resigning.
Photo: Chien Jung-fong, Taipei Times
The scheduled negotiations with Beijing remain unchanged, Duh said. However, it is uncertain whether negotiations for the pact would be affected, he added, citing the changes in the domestic political landscape.
Kuan, who took office on Jan. 22, said that he would return to academia after the Cabinet reshuffle, rather than stay at his current post.
Kuan was a professor at National Taiwan University before being appointed as a minister without portfolio and later, council minister.
Kuan said he went to his office to pack on Sunday, a day after Premier Jiang Yi-huah (江宜樺) tendered his resignation to President Ma Ying-jeou (馬英九) after the KMT suffered major setbacks in the elections on Saturday.
Kuan said he hopes his successor will continue to promote the council's HeadStart Taiwan project, which aims to help local startups, and the proposed free economic pilot zones.
Minister of Finance Chang Sheng-ford (張盛和) refused to comment on any future career plans after resigning alongside the premier, as is customary.
Chang said he would not attend the legislature review on Thursday of the bills to raise taxable hurdles for active stock traders from the current NT$1 billion (US$32.2 million) to NT$5 billion.
The ministry has voiced reservations about the proposed revisions from legislators.
Chang also declined to comment on plans to raise income taxes on capital gains from property transactions, saying it is up to the next minister to decide whether to press ahead with the change.
Central bank Governor Perng Fai-nan (彭淮南) shook his head when asked if he would consider steering the Cabinet, as some legislators have suggested.
Perng has consistently communicated that the governor's seat is the last government position he intends to hold in his decades of public service.
Both ruling and opposition parties have tried unsuccessfully to woo him with different posts, including vice presidency and premiership.
Comments will be moderated. Keep comments relevant to the article. Remarks containing abusive and obscene language, personal attacks of any kind or promotion will be removed and the user banned. Final decision will be at the discretion of the Taipei Times.