Facebook to win approval for WhatsApp bid: sources
Facebook Inc, the world's leading social network, is set to win unconditional EU approval for its US$19 billion offer for mobile messaging startup WhatsApp in a deal pitting it against telecoms operators, two people familiar with the matter said on Thursday.
The landmark acquisition, the largest in Facebook's 10-year history, will give the company a firm foothold in the fast-growing mobile messaging market.
However, a plan by WhatsApp to add free voice-call services for its 450 million users later this year makes it a potentially powerful competitor to companies such as Deutsche Telekom, Telecom Italia and Telefonica.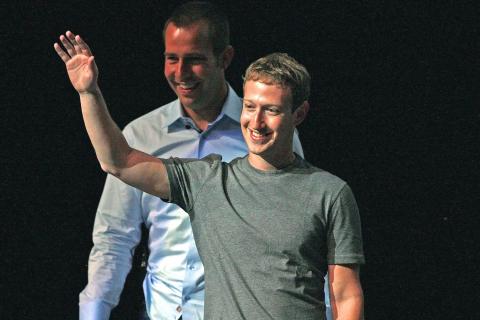 Facebook founder Mark Zuckerberg waves during a forum in Mexico City, on Sept. 5, where he expressed his desire to connect the world through the Internet.
Photo: EPA
Analysts said the move is likely to hit telecoms providers' turnover as the industry heads into its fifth year of revenue decline. The sector had looked to EU regulators to extract concessions from Facebook.
Facebook convinced the European Commission that the deal had no anti-competitive effect and, therefore, concessions were not necessary, the sources said.
"It's unconditional clearance," one of the people said, declining to be named because the decision by the commission was not yet public.
Commission spokesman Antoine Colombani declined to comment. The EU competition authority has set an Oct. 3 deadline for its decision.
The deal does not seem to pose any competition problems as far as the commission is concerned, said Tobias Caspary, a law firm partner at Fried Frank.
"Both parties are offering their services for free. It seems unlikely that customers are locked in with respect to instant messaging, and it would be relatively easy to switch to alternative offers, for example Skype or Line," he said.
"Also relevant factors looked at were probably that the entry barriers are relatively low for the instant messaging market, that this is still a nascent market characterized by rapid changes and growth, and that there are several recent entrants," Caspary said.
US regulators gave the green light for the deal in April, telling WhatsApp to stick to its current privacy practices after the merger, including not to use users' personal data for targeted ads.
WhatsApp and its rivals such as KakaoTalk, China's WeChat and Viber have in recent years won over telecoms operators' customers with a free text messaging option, posing a serious threat to the sector's revenues from this business, which totaled about US$120 billion last year, according to market researcher Ovum.
Comments will be moderated. Keep comments relevant to the article. Remarks containing abusive and obscene language, personal attacks of any kind or promotion will be removed and the user banned. Final decision will be at the discretion of the Taipei Times.