Chinese buyers lead iPhone race
SECONDARY MARKET: Dealers are hoping to cash in on the delay in the launch of the new iPhone 6 in China by reselling the units at a higher price to Chinese buyers
Buyers from China, deprived of the latest iPhone launch at home, were yesterday among the first in line in Japan to grab the "6" and its new large-screen cousin as Apple Inc hit back at rivals.
Licensing problems in China meant the global rollout went ahead without the huge and lucrative market, in a blow to Apple, which had trumpeted its inclusion in the initial wave of the last iPhone launch.
Outside Tokyo's flagship Apple store in glitzy Ginza, dozens of Chinese were among those waiting.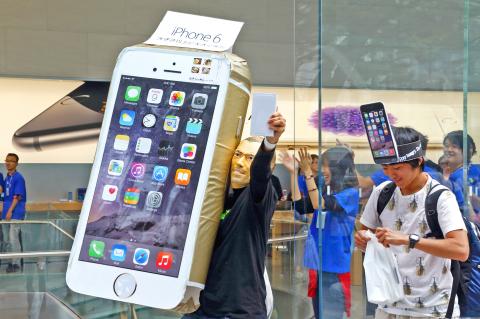 A customer wearing a mask resembling Apple cofounder Steve Jobs shows a box containing a newly purchased iPhone 6 at a store in Tokyo, Japan, yesterday.
Photo: Bloomberg
"I'm queueing because it's not sold in China yet," said Chen Manyan, a 21-year-old tourist from China's Fujian Province, adding: "It's expensive, though."
Zou Zhiyang, 29, a Chinese student studying in Tokyo, said he intended to buy the maximum two handsets allowed.
"I'll buy one for myself, and another to sell to one of my friends in China," he said.
On the eve of the launch, Beijing said Apple had won two necessary approvals, one to certify the phone for the Chinese market and another for wireless devices.
"But iPhone 6 still needs to obtain a key network access license before it can enter the Chinese mainland market," Xinhua news agency said.
The delay has created a lucrative secondary market, especially in Hong Kong, where dealers pay more than the retail price expecting to get even more in turn from mainland buyers.
"If we are talking about the 128-gigabyte version, we would buy it for as much as HK$18,000 [US$2,322]," said Gary Yiu, the manager of the iGeneration reseller store.
That is more than double the price of the top-of-the-range iPhone 6 Plus.
"I have around 200 preorders, with 60 to 70 percent of these from mainland Chinese customers," Yiu said, adding that he had dispatched 10 staff members to buy as many as possible.
Yiu said the golden version of the 128GB iPhone 6 Plus was the most sought after, and he could resell it for more than HK$20,000.
Dozens of resellers outside Hong Kong's Apple stores handed over thick wads of cash to people selling their handsets.
The booming reseller market "means Apple products are still in high demand in China... Their products are still highly accepted there," Hong Kong-based market analyst Jackson Wong (黃志陽) said.
Apple says more than 4 million preorders were received in the 24 hours after the sale was announced.
Both new iPhones have larger screens in what some consider Apple catching up with the "phablet" trend pioneered by competitors. Main rival Samsung Electronics Co has long had a range of larger handsets, which are popular in Asia, and will soon release a new Galaxy Note 4 phablet.
Other markets launching the Apple device yesterday were Singapore, Britain, France, Germany, the US, Canada and Puerto Rico. About 20 more countries, including Taiwan, are to get the new iPhone from Friday.
Comments will be moderated. Keep comments relevant to the article. Remarks containing abusive and obscene language, personal attacks of any kind or promotion will be removed and the user banned. Final decision will be at the discretion of the Taipei Times.