Microsoft's base turning into new Silicon Valley
Last month, Twitter entertained dozens of potential young recruits at a chic studio, while Facebook served drinks and snacks to job-seekers at its own office. More than 175 showed up to a similar event at Google in June.
San Francisco? No, Seattle, home of Microsoft Corp and Amazon, and fast becoming a second home for Silicon Valley companies looking to access the city's plentiful pool of relatively cheap tech talent.
Microsoft alumni are now running the Seattle offices of Facebook Inc, Twitter Inc and Google Inc, and they look to their former employer as a source for new talent. Microsoft has always suffered some loss of talent to competitors, but it now has to battle attractive companies in its own backyard to hire the tech stars it needs to reposition itself as a leader in mobile and the cloud.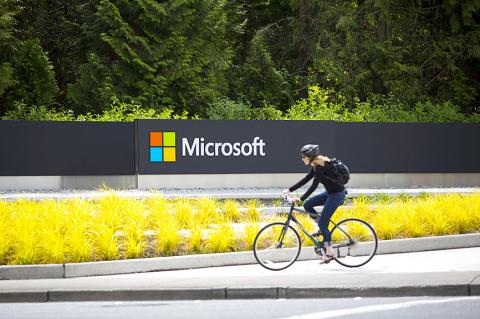 A woman rides a bicycle past a Microsoft Corp sign on the company's main campus in Redmond, Washington, on July 17.
Photo: Bloomberg
"A lot of our top engineers are from Microsoft and they are doing really well," said Rohit Wad, who leads Facebook's Seattle office after an 18-year career at Microsoft. "The deep computer science knowledge they have is directly applicable to a lot of work we do."
Facebook has more than 400 employees in Seattle, up from 125 only two years ago, vastly outstripping the social network's overall growth. It recently took over a second floor in its rented offices to handle the overflow and is starting to fill a third.
"There's a depth of engineering talent and experienced engineers here," said Wad, whose team does a lot of work relating to Facebook's platform and mobile development. "That's a big contingent here in Seattle because we can get people who are proficient in that. There is meaty, fulfilling work here."
Google now has more than 1,400 employees in two centers in the Seattle area, with the engineering work run by Microsoft veteran Chee Chew. Twitter opened its Seattle office in January and has almost 100 employees under Jeff Currier, another former Microsoft manager.
TALENT POOL
"We have a huge talent pool in the city," said Hillel Cooperman, a former Microsoft executive who founded his own software firm and design consultancy in Seattle with former colleagues called Jackson Fish Market. "It's less expensive to hire them up here, so why wouldn't you?"
Software developer salaries start at about US$95,000 in Seattle, compared with about US$109,000 in San Francisco, recruiting company Robert Half Technology said. Washington was the fifth fastest-growing state for computer-related jobs in the first half of this year, according to the US Bureau of Labor Statistics. Texas, Florida, North Carolina and Oregon were the four fastest.
"It's really hard to find great talent in any market, but the Bay Area is a freakin' knife fight," said Brett Thompson, who runs human resources and recruiting at Seattle-based data visualization firm Tableau Software Inc.
"That's why you see a lot of companies from the Bay Area coming up here. It actually feels like there's a more plentiful amount of talent in Seattle," Thompson said.
Microsoft and Amazon are the engines that power tech employment in the Seattle area, bringing in thousands of graduates and qualified programmers every year from around the US and the world.
Many subsequently leave those companies, but do not want to give up the laid-back, relatively cheap Seattle way of life. They often go to one of the Silicon Valley invaders, or the rash of startups that are becoming forces in their own right, such as Zillow, Tableau and Zulily.
HIGH TURNOVER
"Microsoft people tend to leave after their reviews in the summer and then September when they get their bonuses," said Jerry Taylor, president of Executive Recruiters Inc in Seattle, who has been placing tech candidates in the city since 1977.
Turnover has been heating up this summer, after Microsoft began laying off 1,351 around the Seattle region in July, many of them involved in testing Windows software. Microsoft currently has 1,289 vacancies in the area on LinkedIn, almost half of them with the word "cloud" in the title.
Albert Squiers, director of technology recruiting at Fuel Talent in Seattle, said the ripple effect of the layoffs was starting to be felt in the region, and he has already been contacted by a handful of jobseekers from Microsoft. Taylor said he has seen an "influx."
The ebb of talent from Microsoft is potentially damaging to the software giant if it continues to lose mobile-savvy people to younger rivals.
"I definitely think that Microsoft is challenged to bring in top talent," said Scott Ruthfield, a former Microsoft and Amazon manager who founded the tech recruiting and consulting firm Rooster Park. "There are growth companies that tell a more exciting story."
Microsoft executives declined to discuss the issue, but a spokesman said Seattle's growth as a tech hub was good for everybody.
"It is a boon to both the local tech industry and the overall regional economy, and benefits companies of all sizes," the spokesman said.
QUALITY OF LIFE
Despite the more frequent rain, many rising tech stars end up liking Seattle more than the Bay Area for the space and low rents.
"People like the quality of life in the Pacific Northwest, the outdoors, the traffic and the cost of living," said Megan Slabinski, who runs Robert Half Technology's recruiting business on the west coast. "Oftentimes, candidates are not as willing to relocate to the Bay Area, once they live in the Pacific Northwest."
Comments will be moderated. Keep comments relevant to the article. Remarks containing abusive and obscene language, personal attacks of any kind or promotion will be removed and the user banned. Final decision will be at the discretion of the Taipei Times.