Argentina could see grains surge if next president opens market
Farmers in Argentina, the world's No. 3 soybean exporter, are hoping the next president would remove export taxes to make their crops more competitive with world leaders the US and Brazil
Grains powerhouse Argentina could increase soy, corn and wheat output by as much as a fifth if the president elected next year scraps export quotas, eases taxes and reverses other policies that have slowed investment, farmers and commodity traders say.
Relations between growers and Argentine President Cristina Fernandez are riven by disagreements over interventionist policies that farmers say have sapped profits, hurt the currency and helped fuel one of the world's highest inflation rates.
Argentina is the world's No. 3 soybean exporter and the top supplier of soymeal livestock feed, much of it shipped to Asia. It is also a major exporter of corn and wheat.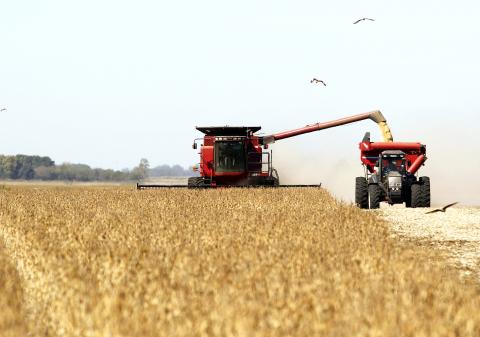 Soybean plants are harvested at a field in the city of Chacabuco, Argentina, on April 24 last year.
Photo: Reuters
However, its farmers have been stung by government policies and this year's dive in global grains prices caused by US bumper crops. Their main hope is that whoever wins the election in October next year will ease the pressure and help them capitalize on growing world food demand.
"What we need is a free market and consistent policies that allow us to plan and invest," said Pedro Vigneau, the fifth generation of his family to work a 1,400-hectare farm near the town of Bolivar in the breadbasket province of Buenos Aires.
The early election front-runners are more market-friendly than leftist Fernandez, who in July presided over Argentina's second bond default in 12 years. She has led Argentina for two terms and is constitutionally barred from seeking a third.
Mauricio Macri, mayor of Buenos Aires and one of the front-runners, has promised to abolish wheat and corn export curbs and phase out Fernandez's 35 percent tax on soybean exports.
Neither the US nor Brazil, which jostle for rank of top soybean exporter, tax exports.
"Export taxes will be immediately eliminated on all products accept for soy, which will be done gradually," Macri has said, also vowing to turn agriculture into "a true motor for economic development" by making corn, wheat and sunflower farming more profitable.
Other candidates with high approval ratings, like Buenos Aires Governor Daniel Scioli and Argentine Congressman Sergio Massa, echo Macri's investment-friendly stance, but so far have shied from offering such specific farm policy plans.
"Any of the three would try to shift agriculture policy toward a more free market orientation," said Mariel Fornoni, a partner at the Management and Fit political consultancy.
Vigneau said his farm's grains and oilseed output could shoot up 20 percent to about 3,780 tonnes if the next government scraps export taxes and quotas.
It is an assessment echoed by other farmers and grains traders. Should the next president take a serious stab at policy reform, they say total grains and oilseed output would grow quickly from today's base of about 100 million tonnes per year.
"Today we would be at about 125 million tonnes if we were free of these government interventions," said Ernesto Ambrosetti, chief analyst at the Argentine Rural Society, which represents some of the country's biggest farms.
Overall grains and oilseed output has climbed over the last decade thanks to farmers' embrace of no-till planting techniques and genetically modified seeds that increase yields.
Still, two Buenos Aires-based grains traders agreed that Argentina continues underproducing by about 20 percent.
Agriculture consultant Pablo Adreani is factoring a change toward "more logical policies" into his crop forecasts for 2015-2016.
From the 10 million tonnes of wheat produced by Argentina in the 2013-2014 season, Adreani expects output of 15 million tonnes by 2015-2016. From 55 million tonnes of soy this crop year, he expects 60 million tonnes in 2015-2016, and from 25 million tonnes of corn he sees a jump to 30 million.
However, some of the reforms sought by farmers on the Pampas grains belt, which covers an area larger than Texas, would be difficult to implement.
The next president will likely inherit an economy in or wriggling out of recession, a widening fiscal deficit and thin foreign reserves, leaving little room to maneuver.
The 35 percent tax on soybean export revenue — which comes on top of farm income, land and road taxes — helps the government fund hefty energy and transport subsidies and generous social welfare benefits.
The government says soy farming is so profitable that growers can afford to pay a high export tax, and that without it they would plant less corn and wheat needed for domestic consumption.
It also argues that the curbs on corn and wheat exports help guarantee local supplies, keeping food prices under control.
In 2008, thousands of growers went on strike against another proposed tax hike and Fernandez had to back down. Her dealings with the sector have been icy ever since.
"We will start talking with whoever wins, so it's got to get better," Vigneau said. "Until then we are limited because we are in a permanent fight with this government."
The debt default in late July has already raised the cost of financing crops and farmers are hoarding soy because they expect the ailing peso currency to weaken further.
Official data show farmers have sold 55.5 percent of their soybeans so far this season, down from 64.4 percent at the same point last year.
Vigneau says the need for predictable government policies can be seen on his feed lot where 1,400 cows gather in knee-high mud. He wants to lay concrete to help them get to their food.
"Today I read in the newspaper that the government is cutting off beef exports for 15 days because the price of steak is rising, but no one knows if this 15 days will be extended for six months," 45-year-old Vigneau said. "So I don't know if I can afford to improve my feed lot. With policy certainty, investment would grow considerably."
Another possible presidential candidate is Julian Dominguez, who served as Fernandez's farm minister from 2009 to 2011 and now leads the ruling coalition in the lower house of congress.
Dominguez has distanced himself from Fernandez's policies, saying he would "revise" the export quota system.
The variable quotas make it tough for growers to know how much corn and wheat to plant. So they shy away from those two and plant more soybeans, a trend that can damage soils if crop rotation is stepped up.
"What we plant this year will be harvested under the current government. So we are still playing defense," said David Hughes, who manages thousands of hectares in Buenos Aires province.
"What we plant next year will be harvested under a new government that is sure to be more open to us," Hughes said.
"We'll tell them that to be competitive we need the basics, starting with open access to the market. We can do the rest," he said.
Comments will be moderated. Keep comments relevant to the article. Remarks containing abusive and obscene language, personal attacks of any kind or promotion will be removed and the user banned. Final decision will be at the discretion of the Taipei Times.