T-Mobile accuses Huawei of theft from laboratory
T-Mobile USA Inc has filed a lawsuit against the Chinese smartphone maker Huawei Technologies Co (華為), accusing the manufacturer of stealing technology, including part of a robot's arm, from T-Mobile's headquarters in Bellevue, Washington.
In a lawsuit filed on Tuesday in Seattle, T-Mobile said that employees of Huawei, previously a T-Mobile supplier, gained illicit access to a T-Mobile lab in Bellevue, stole parts of a smartphone testing robot called Tappy, and copied operating software and design details, all in violation of confidentiality agreements signed by the two companies.
In one instance, in May last year, a Huawei employee removed an end section of Tappy's arm and "slipped the hidden part into his laptop bag when leaving," according to the lawsuit. The employee's actions were caught on camera, the lawsuit said.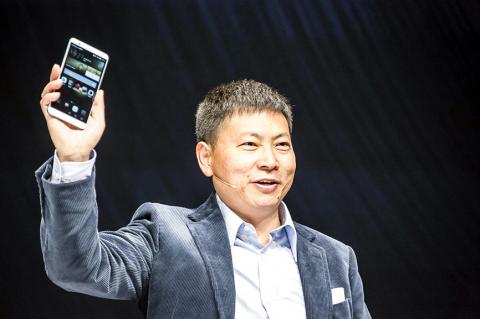 Huawei CEO Richard Yu holds one of the firm's new mobile phones at a launch event in Berlin on Thursday.
Photo: Reuters
T-Mobile did not specify the amount of damages it was seeking for the espionage, which it claims took place in 2012 and last year. However, it said that the cost of switching away from its former supplier's handsets would "likely reach at least tens of millions of dollars."
Huawei spokesman William Plummer acknowledged that two employees had acted inappropriately and had since been fired. "There is some truth to the complaint," he said in a statement. "Huawei respects T-Mobile's right to file suit, and we will cooperate fully with any investigation and court proceeding to protect our rights and interests."
According to T-Mobile, Tappy performs tasks on a smartphone the same way a human would, only faster, recording the results. Since T-Mobile started to use Tappy to test smartphones in 2007, testing times as well as the number of consumers returning phones have decreased significantly, the lawsuit says.
T-Mobile says that the Chinese company is using the stolen technology to build its own testing robot.
Huawei is the world's third-largest smartphone maker behind Samsung Electronics Co and Apple Inc, according to the market research firm International Data Corp. It was one of two Chinese companies described as a national security threat in a bipartisan report issued by a US House of Representatives committee in 2012 for their attempts to extract sensitive information from US companies, and their loyalties to the Chinese government.
Despite those allegations, Huawei, which also makes telecommunications equipment, has won a series of large contracts in Europe and in emerging markets. It has had little success in the US.
Huawei has repeatedly said it has done nothing wrong.
Comments will be moderated. Keep comments relevant to the article. Remarks containing abusive and obscene language, personal attacks of any kind or promotion will be removed and the user banned. Final decision will be at the discretion of the Taipei Times.