Multinationals target Africa haircare industry
With all the skill of a master weaver at a loom, Esther Ogble stands under a parasol in the sprawling Wuse market in Nigeria's capital and spins synthetic fiber into women's hair.
Nearby, three clients — one in a hijab — wait for a turn to spend several hours and US$40 to have their hair done, a hefty sum in a country where many live on less than US$2 a day.
While still largely based in the informal economy, the African haircare business has become a multibillion-dollar industry that stretches to China and India, and has drawn global giants such as L'Oreal and Unilever.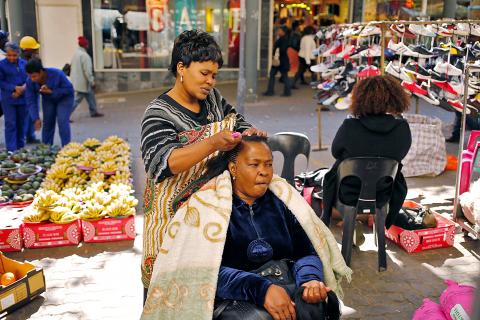 A hairdresser braids the hair of a client in Johannesburg on Aug. 5.
Photo: Reuters
Hairdressers such as Ogble are a fixture of markets and taxi ranks across Africa, reflecting both the continent's rising incomes and demand from hair-conscious women.
"I need to braid my hair so that I will look beautiful," 25-year-old Blessing James said, wincing as Ogble combed and tugged at the back of her head before weaving in a plait that fell well past the shoulder.
While reliable Africa-wide figures are hard to come by, market research firm Euromonitor International estimates US$1.1 billion of shampoos, relaxers and hair lotions were sold in South Africa, Nigeria and Cameroon alone last year.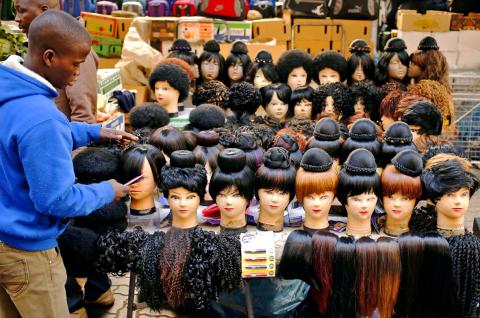 A man prepares wigs as he waits for customers in downtown Johannesburg on Aug. 5.
Photo: Reuters
It sees the liquid haircare market growing by about 5 percent from last year to 2018 in Nigeria and Cameroon, with a slight decline for the more mature South African market.
This does not include sales from more than 40 other sub-Saharan countries, or the huge "dry hair" market of weaves, extensions and wigs crafted from everything from synthetic fiber to human or yak hair.
Some estimates put Africa's dry hair industry at as much as US$6 billion a year; Nigerian singer Muma Gee recently boasted that she spends 500,000 naira (US$3,100) on a single hair piece made of 11 sets of human hair.
Haircare is a vital source of jobs for women, who make up a large slice of the informal economy on the poorest continent.
However, business in Wuse market has slowed recently, 37-year-old Josephine Agwa said, because women were avoiding public places due to concerns about attacks by Islamic militant group Boko Haram.
The capital has been targeted three times since April, including a bomb blast on a crowded shopping district in June that killed more than 20 people.
"The ones that don't want to come, they call us for home service," she said, as she put the finishing touches on a six-hour, US$40 style called "pick and dropped with coils" — impossibly small braids that cascade into lustrous curls.
Nigerians are not alone in their pursuit of fancy locks.
"I get bored if I have one style for too long," said Buli Dhlomo, a 20-year-old South African student who has long red and blonde braids.
Her next plan is to cut her hair short and dye it "copper gold."
"It looks really cool. My mom had it and I also had it at the beginning of the year and it looked really good," said Dhlomo, who can spend up to 4,000 rand (US$370) on a weave.
While South Africans change their hairstyle often, West Africans do so even more, L'Oreal South Africa managing director Bertrand de Laleu said.
"African women are probably the most daring when it comes to hairstyles," he said, adding that dry hair — almost unheard of a decade ago — was a growing trend across sub-Saharan Africa.
"Suddenly you can play with new tools that didn't exist or were unaffordable," he said.
The French cosmetics giant this year opened what it billed as South Africa's first multiethnic styling school, training students of all races on all kinds of hair, something that would have been unthinkable before the end of apartheid in 1994.
L'Oreal is looking to build on its "Dark and Lovely" line of relaxers and other products with more research into African hair and skin and has factories in South Africa and Kenya producing almost half the products it distributes on the continent.
Nor is it alone. Anglo-Dutch group Unilever has a salon in downtown Johannesburg promoting its "Motions" line of black haircare products, and niche operators are springing up in the booming dry hair market.
"We supply anything to do with dry hair, across the board," said Kabir Mohamed, managing director of South Africa's Buhle Braids, rattling off a product line of braids, weaves and extensions that use tape, rings or keratin bonds.
Today there are more than 100 brands of hair in South Africa, a market worth about US$600 million, he said, roughly four times more than in 2005.
Much of the hair sold is the cheaper synthetic type and comes from Asia. Pricier natural hair is prized because it lasts longer, retains moisture and can be dyed.
India's Godrej Consumer Products acquired South African firm Kinky in 2008, and sells synthetic and natural hair, including extensions, braids and wigs. Buhle Braids, like its rivals, sources much of its natural hair from India, which has a culture of hair collection, particularly from Hindu temples or village "hair collectors."
The hair is then sent to China where it is processed into extensions and shipped to Africa. Hair from yaks, to which some people are allergic, is now used less.
In one clue to the potential for Africa, market research firm Mintel put the size of the black haircare market in the US at US$684 million last year, estimating that it could be closer to US$500 billion if weaves, extensions and sales from independent beauty stores or distributors are included.
What is certain is that Africa's demand for hair products, particularly those made from human hair, is only growing.
"It hurts, but you have to endure if you want to look nice," said Josephine Ezeh, who sat in Wuse market cradling a baby as a hairdresser tugged at her head. "Hair is very, very important."
Comments will be moderated. Keep comments relevant to the article. Remarks containing abusive and obscene language, personal attacks of any kind or promotion will be removed and the user banned. Final decision will be at the discretion of the Taipei Times.