Japanese job market tightening
Japan's job market is tightening despite a rise in the unemployment rate, official data showed yesterday, as consumer spending recovers from April's sales tax hike.
The fresh figures suggest that activity has held up despite fears the increased levy would hit a recovery in the world's No. 3 economy, analysts said.
Japan hiked its sales tax to 8 percent from 5 percent on April 1 in a bid to tame the country's massive national debt.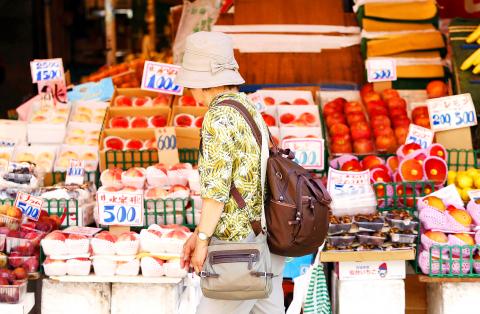 A woman looks at a display of fruit in front of a fruit store in a shopping district in Tokyo, Japan, yesterday.
Photo: Reuters
Official data yesterday showed that Japan's unemployment rate ticked up to 3.7 percent last month, from 3.5 percent in May, which was the lowest in nearly 17 years.
However, the ratio of job offers to job seekers was sitting at a 22-year high of 1.10, meaning there were 110 job offers for every 100 people looking for work, with the figures also showing more women entering the workforce.
The rise in both job offers and joblessness suggest more people have started looking for work as they see the labor market improving, leading them to be counted as job-seekers, which in turn pushes up the unemployment rate.
Separate data yesterday showed retail sales inched up 0.4 percent month on month last month, much slower than the 4.6 percent seen in May.
The broader measure of household spending slipped 3 percent on-year, smaller than drops of 8 percent in May and 4.6 percent in April just after the tax hike.
The spending figures suggest the upward momentum was likely to continue, analysts said.
"Today's data showed the second consecutive rise in retail sales following April's plunge and a tightening labor market suggests that the recovery in consumer spending should continue in coming months," Marcel Thieliant of Capital Economics said.
"The current level of [job] vacancies still points to further declines in the jobless rate in coming months," he said in a research note.
Comments will be moderated. Keep comments relevant to the article. Remarks containing abusive and obscene language, personal attacks of any kind or promotion will be removed and the user banned. Final decision will be at the discretion of the Taipei Times.