OSI probe finds meat supply below par
FOOD SCARE: The US firm promised 'sweeping changes' after its Shanghai unit, a leading fast-food chain supplier, was found mixing out-of-date meat with fresh products
An ongoing internal investigation conducted by OSI Group LLC into its unit, the scandal-hit Chinese food supplier Shanghai Husi Food Co (上海福喜食品), has revealed that standards were below par.
OSI Industries president and chief operation officer David McDonald told a news conference in Shanghai yesterday that the company would make "sweeping changes" to its China operations, including senior personnel changes.
The firm will also spend 10 million yuan (US$1.62 million) over three years to launch a food safety education program in Shanghai.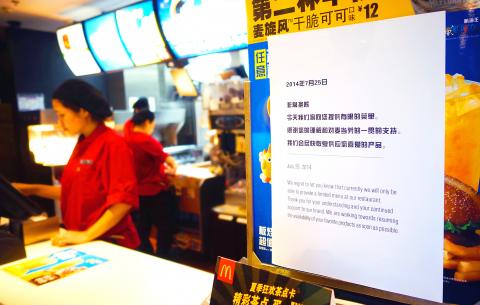 A sign reading that there is only a limited menu available is seen at a McDonald's restaurant yesterday in Shanghai.
Photo: AFP
OSI Group, based in Aurora, Illinois, announced over the weekend that it was withdrawing all products made by the factory in Shanghai.
The factory's customers in China included McDonald's, KFC, Pizza Hut, coffee chain Starbucks, Burger King, 7-Eleven convenience stores and Papa John's Pizza, the companies said.
An operator from the McDonald's national delivery hotline yesterday said that beef and chicken items were unavailable in the Shanghai area, though fish and pork could be ordered.
"We have stopped selling all products related to Husi for food safety. Products affected mainly used beef and chicken," he said.
At a McDonald's in central Beijing, counter staff told customers that the branch only had the Filet-O-Fish sandwich.
At every cash register, there were signs in both Chinese and English reading: "We regret to let you know that currently we will only be able to provide a limited menu at our restaurant."
It was unclear how wide the shortages are. By the end of April, McDonald's had more than 2,000 restaurants in China, according to its Web site.
McDonald's China could not be immediately reached for comment.
Just more than a week ago, authorities in Shanghai shut a plant owned by OSI Group for mixing out-of-date meat with fresh product and later detained five officials from Shanghai Husi.
The "bad meat" scandal, as it has been called by Chinese media, has spread to Japan and Hong Kong — a special administrative region of China.
McDonald's said on Friday that its more than 3,000 restaurants in Japan had stopped selling products made with chicken from China, regardless of supplier. Japanese convenience store giant FamilyMart stopped selling chicken sourced from the Shanghai plant.
In Hong Kong, McDonald's suspended sales of chicken nuggets and several other items, including chicken burgers, salads and lemon tea after admitting it imported food from the problem factory.
Comments will be moderated. Keep comments relevant to the article. Remarks containing abusive and obscene language, personal attacks of any kind or promotion will be removed and the user banned. Final decision will be at the discretion of the Taipei Times.