France probes UBS over tax fraud
OLD NEWS: UBS, the largest Swiss bank, has yet again been charged with helping clients evade paying taxes, and is under formal investigation by French authorities
UBS AG, the largest Swiss bank, was placed under formal investigation by the French authorities on Wednesday and ordered to post bail of more than US$1 billion in the kind of tax-evasion case that ensnared it in the US several years ago.
The Zurich-based bank faces charges of money laundering and tax fraud for helping French clients to hide funds from the national tax administration from 2004 to 2012, an official in the Paris prosecutor's office said. The official cannot be identified, in keeping with the rules of the office.
UBS has also been ordered to post bail of 1.1 billion euros (US$1.48 billion), the official said.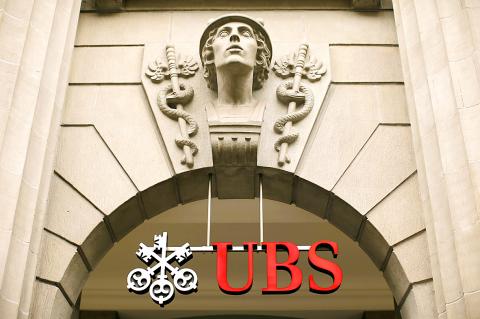 The UBS logo is pictured outside the headquarters of UBS AG in Zurich, Switzerland, on Monday.
Photo: Bloomberg
The bank did not respond to requests for comment.
The news, first reported on Wednesday by Agence France-Presse, was not entirely unexpected. A whistle-blower's tip had led the authorities to the Swiss bank, and UBS was last year placed under formal investigation on suspicion that it illegally sold banking services to French citizens to enable them to move money offshore. It was ordered to pay a fine of 10 million euros in that case.
UBS has been entangled in tax cases with major governments for several years. Most notably, in 2009 it reached an agreement with the US Department of Justice to disclose client names and pay US$780 million to avoid criminal prosecution. The bank acknowledged having defrauded the US Internal Revenue Service by helping wealthy US citizens to evade taxes.
Credit Suisse AG, UBS' cross-town rival, announced on Wednesday a second-quarter loss of US$779 million after agreeing in May to plead guilty to conspiring to help US citizens evade taxes and paying US$2.6 billion in penalties.
UBS bankers in France used the same approach to tap wealthy investors that they used in the US, French news reports said, attending prestigious cultural and sporting events and seeking to mingle with high net-worth individuals through their social networks.
Under the French system, a formal investigation suggests prosecutors believe there is sufficient evidence to suggest criminal charges may be warranted, but there is no certainty that the bank will ever face trial and such cases often drag on for years only to be dropped.
French President Francois Hollande has made the pursuit of tax cheats a priority after his former budget minister, Jerome Cahuzac, was discovered to be hiding funds in Switzerland and Singapore.
At the global level, the movement to rein in tax havens has also been gathering momentum recently, with the Organisation for Economic Co-operation and Development announcing this week standardized rules for improving banking transparency in tax matters.
However, despite giving some ground to maintain its relations with the US financial system, Switzerland is holding on to its banking secrecy laws.
Comments will be moderated. Keep comments relevant to the article. Remarks containing abusive and obscene language, personal attacks of any kind or promotion will be removed and the user banned. Final decision will be at the discretion of the Taipei Times.