Cambodia garment workers struggle to survive
Once a model for sweatshop-free manufacturing, Cambodia's booming garment sector has seen working conditions deteriorate as the number of factories swells
After a 10-hour shift stitching clothes for western brands, Cambodian factory worker Ry Srey Bopha walks to her tiny shared room, eats leftovers, then sleeps on the floor.
Like many of Cambodia's 650,000 garment workers, who are overwhelmingly women, Bopha's days are monotonous and exhausting, and her diet is poor.
She rarely sees her five-year-old daughter, who is being raised by an elderly grandparent in the countryside.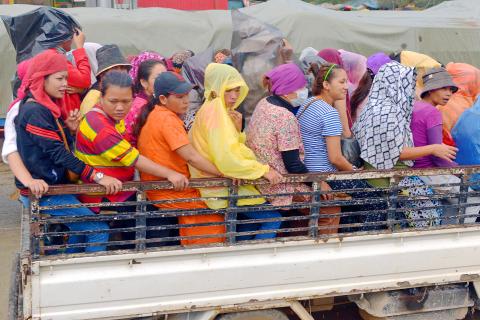 A truck ferrying garment workers travels along a street in Phnom Penh on May 8.
Photo: AFP
"Life in the garment factories is very difficult," she said. "But I need the money so I just try to be patient."
Once hailed as a model for sweatshop-free manufacturing, Cambodia's booming garment sector has seen working conditions deteriorate as the number of factories has swelled.
As money and orders have flooded into the industry in recent years, new factories have emerged "that either don't know what legal requirements are... or don't care," said Jason Judd, a technical specialist with the International Labour Organization's Better Factories Cambodia program.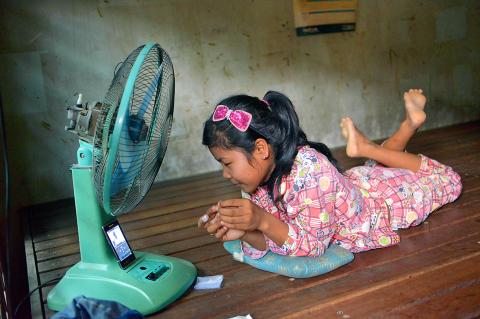 A garment worker watches a video on a mobile phone on May 9 in her room near the factories in Phnom Penh.
Photo: AFP
"They're not paying attention to legal compliance. They're focused on making money," he said.
From a violent strike in January, in which four workers died after police fired live ammunition at protesters, to repeated mass faintings on the factory floor, the once-praised sector has had its reputation dented, alarming some top western brands.
However, workers say that despite the publicity surrounding the protests and some nominal wage increases since, little has changed.
"We're a pitiful part of this garment industry," Bopha said, adding that she had recently passed out on the job after inhaling fumes from chemicals used on the clothes.
"Even if we're sick and cannot work, they cut our salaries. We work when we're ill," she said.
'MODERN-DAY SLAVERY'
Bopha works six days a week, starting her shift at 7am and often finishing late at night as she does extra overtime to make ends meet.
"Sometimes, we have to work overtime all night," she said.
She usually takes home about US$130 a month, US$50 of which she sends home to her family.
"I often eat leftover rice as I need to save money," she said, adding that her only hope was that her daughter would have a better life than her.
Many female workers say conditions in the factories are such that they are forced to choose between their family and their job.
"I can't keep my daughter here as there is no childcare at the factory," said worker Ton Sam Ol, who has a month-old baby.
Ol planned to ask her mother to care for the baby or "I'll have to quit," she said, while breastfeeding the tiny infant.
Ol was given a small amount of paid maternity leave, but many factories have taken to employing female workers on short-term contracts to avoid paying such benefits, union leaders say.
Some factories even terminate the labor contracts of pregnant workers, said Moeun Tola of the Community Legal Education Center, a local rights group.
As a result, "some workers decided to abort when they become pregnant," he said.
Short-term contracts are also a useful means for factories to keep workers in line, he added.
"Workers don't dare turn down overtime or protest conditions. They just work hard even when they're sick," he said. "Their situation is like modern-day slavery," he added.
'ENDLESS STRIKES'
For impoverished Cambodia, garments are a key source of cash, bringing in about US$5.5 billion in export earnings last year. More of that money should be going to workers, union leaders and activists say.
Wages have been increased several times, most recently in February, but still remain below what could be considered a "living wage," activists say.
Factory owners say they cannot afford to increase wages and say western brands ordering the clothes must take responsibility. "We don't have money. We cannot increase [wages]," Garment Manufacturers Association of Cambodia secretary-general Ken Loo said.
Western brands said during a meeting in May that they were prepared to factor in the price of higher salaries in Cambodia to avoid production line delays due to unrest. Following the mass strike and bloody crackdown by authorities in January, the minimum wage has been increased to US$100 per month. Workers were demanding US$160.
A new union law, currently being drafted by the government, looks set to limit the ability of workers to organize and protest.
"The freedom of unions will fade away if the draft law is passed," Cambodian Confederation of Unions president Rong Chhun said.
At least 10 union workers have been arrested and charged over sporadic strikes since the January crackdown.
Twenty-three workers and activists were arrested and convicted over the January strike in late May, but were all released after their sentences were suspended.
However, the problem of low wages and poor conditions has not gone away.
"If a lot workers go on strike again, I will join them too. We want a decent salary," said Bopha's roommate, Em Sophea.
Until significant progress is made, "the workers will strike and demonstrate at factories endlessly," Rong Chhun said.
Comments will be moderated. Keep comments relevant to the article. Remarks containing abusive and obscene language, personal attacks of any kind or promotion will be removed and the user banned. Final decision will be at the discretion of the Taipei Times.