Asia manufacturing picks up, exports still subdued
Manufacturing activity in Asia's industrial powerhouses China and Japan gained pace last month, fueled mainly by improving demand at home, but a long-awaited bounce in exports remained slow in coming.
Manufacturing surveys yesterday confirmed preliminary readings last month that showed factory output expanding across Asia following months of decline in its two biggest economies.
However, the surveys' new export indexes, which gauge the strength of overseas demand, showed only tepid growth in a sign that the region has yet to capitalize on an uneven recovery in the eurozone and delayed upturn in the US economy.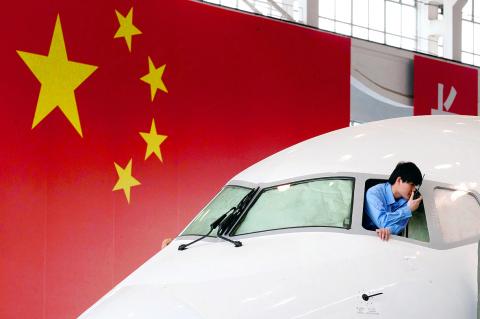 A worker peers out from the cockpit of an almost completed COMAC ARJ21-700 passenger jet at a final assembly and manufacturing center in Shanghai on May 21.
Photo: AFP
China's final HSBC/Markit purchasing managers' index (PMI) rose to 50.7, slightly below its preliminary reading, but confirming its first expansion in six months, from 49.4 in May.
China's official gauge, which is geared more toward bigger state-owned firms, hit a six-month high of 51.
"The economy continues to show more signs of recovery, and this momentum will likely continue over the next few months, supported by stronger infrastructure investments," said Qu Hongbin (屈宏斌), chief economist for China at HSBC.
In Japan, central bank and purchasing managers surveys painted a similar picture of improving manufacturing activity combined with still disappointing export performance.
The Markit/JMMA purchasing managers' index for last month showed factories were already cranking up activity, with its main gauge coming in at 51.5, above the preliminary reading of 51.1 and topping the 50-point mark for the first time in three months.
Yet, as in China, an anticipated rebound in exports remained elusive, with the new export orders index still contracting marginally.
In Indonesia, Southeast Asia's largest economy, manufacturing activity rose to a record solely on the back of the strength of domestic demand that offset a dip in export orders.
The impact of disappointing exports was on full display in South Korea, Asia's fourth-largest economy, which unlike China or Japan cannot rely on domestic demand to take up the slack with high household debt weighing on consumer demand and the government cutting back on its spending.
The HSBC/Markit purchasing managers' index slid to a seasonally adjusted 48.4 last month from 49.5 in May, its worst in 10 months.
India, the continent's third-largest economy, bucked the trend, owing the rise in its manufacturing gauge to a four-month high primarily to improved overseas demand.
"Things are gradually improving in India's manufacturing sector. Output picked up in June, supported by growing order flows, especially from overseas," said Frederic Neumann, co-head of Asian economic research at HSBC.
Comments will be moderated. Keep comments relevant to the article. Remarks containing abusive and obscene language, personal attacks of any kind or promotion will be removed and the user banned. Final decision will be at the discretion of the Taipei Times.