BNP Paribas has 'ample funding' to pay US fine
'DEEPLY REGRETTING': The French bank was fined by US authorities on Monday after it pleaded guilty to violating US sanctions against Sudan, Cuba and Iran
BNP Paribas SA has ample funding to back the fine and penalties it must pay under settlements with US authorities over sanctions busting, the French bank's top executives told analysts on a conference call yesterday.
"Our liquidity situation, we always guided it as being ample," chief financial officer Lars Machenil said. "At Q1 we had an overall excess of stable funding of 100 billion in euros out of which 50 billion was in US dollars. Yesterday when I looked into the systems ... that figure was basically unchanged at the end of the [second] quarter. This should allow having relevant cash for the settlement."
Machenil added that there was "no rush" to seek the additional tier 1 funding that is seen as a key measure of bank stability as a result of having to pay the fine, set at almost US$9 billion under a settlement announced late on Monday in the US.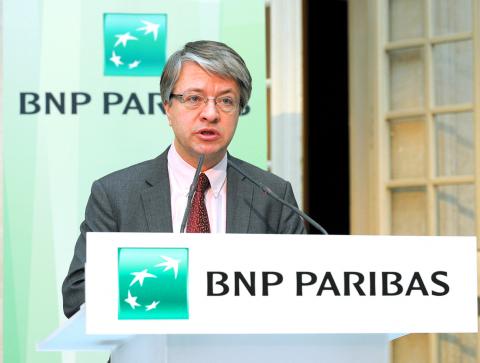 BNP Paribas chief executive officer Jean-Laurent Bonnafe speaks during a press conference in Paris on Feb. 13.
Photo: AFP
"It does not mean that we might not do something opportunistically, but there is no rush for Tier 1," he said.
Machenil said the bank plans to offer cash dividends for this year at 1.5 euro per share, unchanged from last year.
The payout would be about 0.50 euros below what it might have been using a predicted payout ratio of 40.8 percent of earnings, he added. This will help keep core equity tier 1 ratio at about 10 percent.
The remarks came after the bank on Monday pleaded guilty to two criminal charges for violating US sanctions against Sudan, Cuba and Iran.
In an unprecedented move, US regulators also banned BNP for a year from conducting certain US dollar transactions, a critical part of the bank's international business.
The authorities said the severe penalties were warranted because of BNP's persistent and deliberate violations and desire to put profits first, even after US officials warned the bank of its obligation to police for illicit money flows.
The bank essentially functioned as the "central bank for the government of Sudan," concealed its tracks and failed to cooperate when first contacted by law enforcement, US Deputy Attorney General James Cole said in announcing the settlement.
US authorities also found BNP Paribas had evaded sanctions against entities in Iran and Cuba, in part by stripping information from wire transfers so they could pass through the US system without raising red flags.
With its Sudanese clients, the bank admitted it set up elaborate payment structures that routed transactions through satellite banks to disguise their origin.
No individuals were charged on Monday, but US authorities said they have not wrapped up their probes.
"The case which BNP is pleading to now is against the corporation alone, but our investigation into potential individual culpability is continuing," Manhattan District Attorney Cyrus Vance said in an interview.
BNP said it would take an exceptional charge of 5.8 billion euros (US$7.9 billion) in the second quarter of this year.
"We deeply regret the past misconduct that led to this settelement," BNP chief executive officer Jean-Laurent Bonnafe told analysts and investors on a conference call yesterday.
"The failures that have come to light in the course of this investigation run contrary to the principles on which BNP Paribas has always sought to operate," he added.
He said the bank would implement a significant strengthening of its internal controls and processes.
Comments will be moderated. Keep comments relevant to the article. Remarks containing abusive and obscene language, personal attacks of any kind or promotion will be removed and the user banned. Final decision will be at the discretion of the Taipei Times.